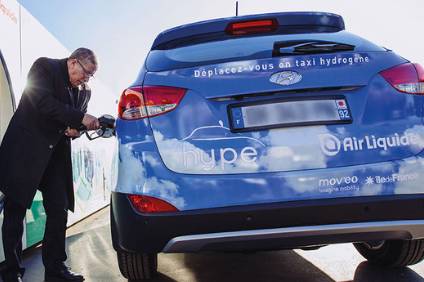 The Chinese government is stepping up its hydrogen drive with a new policy blueprint which calls for 50,000 fuel-cell vehicles to be in use in the country by 2025, to help reduce the country's dependence on energy imports.
The National Development and Reform Commission this week released its development plan for the hydrogen energy sector to 2035 which also calls for the country to have "mastered" core hydrogen technology and manufacturing process by 2025.
Worldwide sales of hydrogen fuel cell vehicles (HFCVs) amounted to around 17,000 units last year according to the China Association of Automobile Manufacturers, with China accounting for just 1,586 of these.
The commission has set a hydrogen production target from renewable sources of between 100,000 and 200,000 tons annually by 2025 which it hopes will help attract investments in distribution and storage by companies and local government. The country currently produces around 33 million tons of hydrogen per year, mostly from fossil fuels.
Hyundai is scheduled to begin HFCV production in China later this year with an initial annual capacity of 6,500 heavy trucks ahead of plans to target light vehicle segments starting with the Nexo FCV.
Great Wall Motors last year said it would invest CNY3bn (US$471m) over three years in hydrogen related R&D.