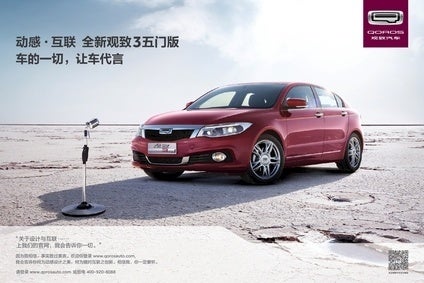 Qoros Automotive, the premium brand joint venture between Chery Auto and Israel Corp, has announced it will open its first authorised dealership and a city showroom in Beijing.
Chairman and CEO Guo Qian told the China Daily that the showrooms will coincide with the launch of the second production model, the Qoros 3 Hatch.
"In conjunction with our Beijing dealer, Qoros will strive to provide Beijing consumers with high-quality products and personalized services," Guo Qian said.
The showrooms located in the capital city's Chaoyang and Shunyi districts will provide traditional car sales services and "an innovative high-tech customer experience" with simulations of car configurations and multimedia entertainment systems, said the company.
Qoros now has 44 dealerships in China, with the number expected to reach 100 by the end of the year, including about 30 that are under design and more than 30 presently under construction.
Stefano Villanti, Qoros executive director of sales and marketing, said the opening of the Beijing dealership and city showroom "will further strengthen the sales network and help us reach 2014 sales and development targets".
Qoros has recently launched a nationwide marketing campaign in China for the Qoros 3 Hatch. The campaign's centrepiece is a TV commercial on national and regional Chinese TV stations. The 30 second advert plays on the concept that the Qoros 3 Hatch's quality 'speaks for itself' by 'making the car the star in its own music video'. The commercial shows the car positioned in front of a microphone as it creates the soundtrack using different engine notes and driving sounds. The advert also features a number of other Hatch models in supporting roles, which perform a series of choreographed moves across the Chaka Salt Lake in Qinghai Province, China.
'The car speaks for itself' theme will be used across many other media executions throughout the campaign, which includes print, digital display and outdoor incorporating cinemas, metro stations and billboards across all major cities where there are Qoros dealerships. The ad creative – featuring the salt lakes and the 3 Hatch with its microphone – has been replicated in showrooms and is being used in local experiential launch events across the country; giving consumers a unified campaign message.
Consumers can get involved with the campaign on the Qoros website by creating their own personalised soundtrack to the ad via a 'Beatbox' app.
"We think this campaign will resonate with our young, trendy and active target audience and that it will encourage them to get behind the wheel to experience the car for themselves – we are convinced that those that drive it will see that its quality really does 'speak for itself,'" said Villanti.
The Qoros 3 Hatch, starting at 119,900 RMB, is the second production model from Qoros, following the introduction of the 3 Sedan to the Chinese market late last year.