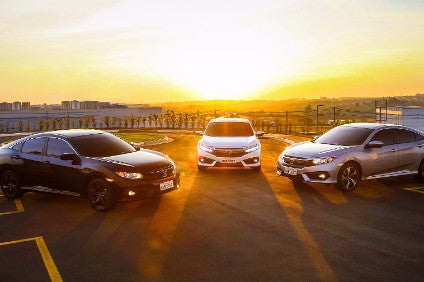 Honda Motor has boosted operating profit for the fiscal second quarter to 30 September, 2016 on reduced sales but has boosted its full-year net profit forecast on strong performance in China.
Operating profit rose 38.4% to JPY228bn (US$2,256m) due to cost cuts, reduced expenses, including quality related expenses [usually recalls] despite unfavourable foreign currency effects.
Sales revenue for the quarter fell 9.9% to JPY3,262.9bn (US$32,268m) due to currency effects and falls across the automobile, financial services and motorcycle sectors.
Consolidated profit rose 3.6% to JPY177.0bn (US$1,751m).
Automobile sales revenue fell 10.7%, to JPY2,341.6bn (US$23,157m) from the same period last year. Operating profit rose 94.5% to JPY131.8bn (US$1,304m).
Financial services sales revenue fell 4.1% to JPY443.2bn (US$4,383m) and operating profit decreased 27.2% to JPY37.7bn (US$374m).
For the full fiscal year to 31 March, 2017, Honda is forecasting revenue off 8.2% to JPY13,400bn, operating profit up 29.1% to JPY650bn and net profit up 20.5% to JPY415bn.
Directors at a meeting in Tokyo today (31 October) fixed the Q2 dividend at JPY22 per share with the full year pay out expected to be JPY88.
The full-year net profit forecast has been boosted by 6% thanks to strong Q2 Asian sales led by China, Reuters reported. Previous forecast was JPY390bn.
The automaker told reporters at a briefing in Japan it also expects cost cuts and lower quality related costs to offset the impact of a stronger currency after making large provisions for costs to recall Takata airbag inflators last year.
Strong demand in growing cities has pushed Honda's Chinese sales up 26% year-on-year to 872,000 in the first nine months of 2016, boosted by a near doubling in sales for the recently redesigned Civic, Reuters said. This led to the full year forecast for group vehicle sales in Asia being boosted 11% to 1.915m after overall Asian sales rose 22% in the second quarter.
Global sales are seen rising 5% to 4.98m cars.
"We're seeing a positive impact from our new models. The Civic is doing very well in North America, China, and South America," Honda Reuters quoted executive vice president Seiji Kuraishi as saying, noting strong demand for the XR-V compact SUV crossover was also lifting Chinese sales.
Earlier this month, the automaker confirmed it was finalising plans to build a new passenger vehicle assembly plant in China with local partner Dongfeng Motor Group. Construction of Honda's seventh Chinese plant was scheduled to be completed by 2019 in Wuhan in Hubei province with initial production capacity of 120,000 units per year which could be doubled to 240,000 units later in line with local demand.
The brand was enjoying very strong growth with sales of Chinese-made cars rising by 28% to close to 829,000 units in the first nine months of the year – helped by strong demand for the XR-V SUV and the newly launched Civic.
Honda is expected to sell all the vehicles it can produce in China for this year, or close to 1.08m units. The overall vehicle market there is expected to exceed 26m units this year with demand boosted by tax incentives on small engine cars.
Reuters noted, however, Honda's new profit forecast was lower than the average JPY482bn profit expected by 21 analysts polled by Thomson Reuters while Honda said its conservative outlook was largely due to global uncertainties.
"At the moment we see uncertainties related to the U.S. elections, Brexit and a weaker sterling, and in Asia, the outlook for Thailand after the death of the country's monarch," Kuraishi said. "We haven't seen the impact of these factors yet, but we're taking a cautious approach to our forecasts."
Kuraishi also said the automaker had no immediate plans to shift production away from Britain, adding it would consider factors including the value of sterling and the likely introduction of tariffs when deciding its future in the country. It is moving its Swindon plant away from multi nameplate model production to a hub for Civic hatchback output, beginning recently with production of the redesigned model for North America.