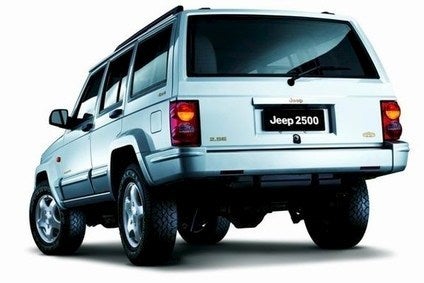 Fiat Chrysler Automobiles' (FCA) plans for a Jeep renaissance in China have taken a big step forward with the announcement of a new joint venture national sales company.
GAC Fiat Chrysler Automobiles (GFC), the existing joint venture between FCA and Guangzhou Automobile Group (GAC), will form a new wholly owned sales company, GAC Fiat Chrysler Automobiles Sales.
Daphne Zheng will be CEO and Chen Daohong executive vice president. The sales company will support GFC's planned sales activities in China.
"Today's announcement marks a new milestone in the efforts to further expand the Jeep brand portfolio offerings in China," FCA said in a statement.
"GFC's Guangzhou manufacturing base will be put into operation in the first half of 2016. By 2018, GFC expects to locally produce eight competitive vehicles in China."
GAC general manager Zeng Qinghong said: "The formation of the [new sales company] marks a new milestone in the development of the GAC-FCA partnership and a new extension of the depth and breadth of the relationship between the two groups.
"GAC adopts a three-pronged strategy – to produce vehicles of its own brands; vehicles of the joint ventures with European and US automakers; and vehicles of the joint ventures with Japanese automakers. By 2020, the sales of GAC will reach 3m units, and the partnership with FCA will be an important part of the strategy."
FCA already has a joint venture with GAC making Fiat cars including a sedan derivative of the Dodge Dart called the Viaggio. In January 2013, Fiat, Chrysler and Ghangzhou signed a framework agreement to expand passenger car manufacturing and sales in China.
According to that deal, the joint venture between GAC, Fiat and the then-Chrysler Group International, which manufactures the Viaggio and distributes imported models such as the Fiat 500 and Bravo and the Chrysler-built, Dodge Journey-based Fiat Freemont in China, would expand operations to add more Fiat models, and, later, Jeep for Chinese sales only.
"This move represents a major landmark in the successful progress of our brand, our business and our partnership here in China," said Jeep chief Mike Manley today (15 July).
"Jeep sales in China saw an increase of nearly 50% in 2014 and China has now grown into the number one Jeep market outside of the United States.
"Local production of Jeep vehicles will improve our competitive position in the market."
GAC and FCA expect to begin producing the Cherokee in China by the end of the year with local production of two additional SUVs expected by the end of 2016. In addition to local production, FCA and GAC also have agreed to localise a "Chrysler brand product", expanding the current passenger car model range for the Fiat and Chrysler brands in China.
Under the new structure, GFC will retain responsibility for local manufacture of Jeep, Chrysler and Fiat brand vehicles. The new sales company will handle sales management, marketing, product planning and aftersales for all models in the three brands' lines.
Locally produced vehicles in China will follow FCA World Class Manufacturing (WCM) protocols that focus on reducing waste, increasing productivity and improving quality and safety in a systematic and organised way.
All existing Jeep, Chrysler and Fiat dealers will be offered a place, based upon performance, in the new sales network. The JV also will expand its Chinese network with new dealers to improve services offered to Chinese buyers.
Jeeps have been built previously in China. Output dates back to the mid-1980s but ended some years ago after Daimler and Chrysler split.
Through a joint venture established about the same time as Volkswagen's first alliance in China, Jeep, then owned by American Motors, first put vehicles into production in China in 1985, after several years of negotiations between the US firm and Chinese automakers and government authorities.
Beijing Jeep Corporation had become China's first Sino-western automotive joint venture when established in 1984. Early model lines included the compact (by US SUV standards) Cherokee and, later, the larger Grand Cherokee.
Almost six years after talks on the joint venture had begun, the first Cherokee rolled off the assembly line on 26 September 1985. Assembly of the Cherokee continued after Chrysler's buy out of American Motors, as did production of Beijing BJ212-based SUVs.
Some Chrysler models were subsequently added to the Chinese company's product line including the Jeep Grand Cherokee, Mitsubishi Pajero [Shogun] Sport, and Mitsubishi Outlander. Chrysler left the joint venture in early 2009.
During Chrysler's short lived partnership with Daimler, parent of Mercedes-Benz Cars, it was decided that the American company's Chinese joint venture would produce Mercedes-Benz-branded products. Beijing Jeep became Beijing Benz-DaimlerChrysler Automotive.