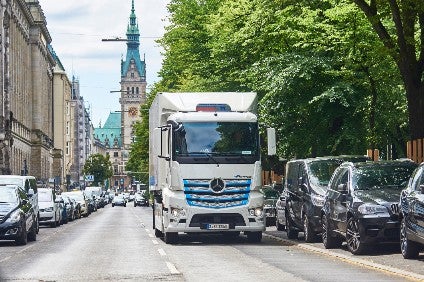 Food logistics specialist Nagel-Group in Hamburg has begun testing an all-electric Mercedes-Benz eActros as part of a programme that has now put 10 trucks into real-world trials with a variety of operators.
The first eActros has been in customer testing since September 2018 and the Nagel-Group vehicle is the 10th and last of the trial fleet.
"The aim is to be able to realise clean and quiet short-radius distribution in urban areas from 2021 using heavy duty, series production trucks," said Daimler in a statement.
The 18 tonne truck has range of up to 200km (120 miles) and supplies refrigerated foodstuffs to customers such as supermarkets in central Hamburg.
It can drive in zones subject to bans on diesel vehicles and its batteries are charged at the company's depot overnight.
Nagel-Group's truck has a swap body – the W.Ko Cool made by Schmitz Cargobull. It has optimum insulation for energy-efficient transport of refrigerated goods and is claimed to be ideally suited for intensive daily use. It is cooled entirely by electricity (so 100% emissions-free, of course) and is specially designed for short-radius distribution.
Carsten Taucke, CEO of the Nagel-Group, said: "The eActros provides an innovative approach so we can reduce emissions and, at the same time, meet the high requirements of our deliveries."
Hamburg unit head Tobias Jardon added: "Hamburg provides the ideal urban surroundings for testing a fully electric truck. The vehicle will deliver refrigerated goods every day to different customers in the inner city. We are looking forward to seeing how the electric truck performs with the high demands of refrigerated logistics."
Daimler's eActros 'Innovation Fleet' of 10 18 or 25-tonne vehicles is being trialled by 20 customers in various distribution sectors as part of regular daily operations. There are two phases, each with 10 operators. Feedback from tests is used to further develop the trucks for mass production.
The eActros is based on the diesel model frame with architecture redesigned around an electric drive system with a high percentage of vehicle-specific components. Two electric motors near the wheel hubs of the rear axle provide drive, each delivering 126kW power and 485Nm maximum torque.
The transmission ratio brings torque up up to 11,000 Nm on each wheel, on par with a conventional diesel truck. Lithium-ion batteries with 240kWh capacity can be charged completely within two hours using a 150kW charger.
This development and testing in short-radius distribution operations is sponsored as part of the Concept ELV² project by the German federal ministry for the environment (BMUB) and the ministry for economic affairs and energy (BMWi).