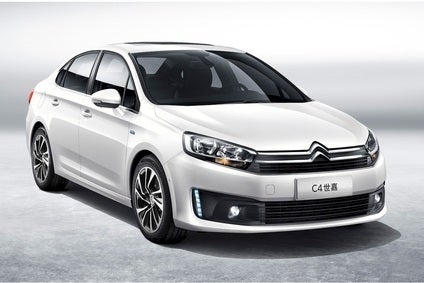 Dongfeng Citroën has presented its new C4 saloon to the Chinese public at the Chengdu Motor Show. Set for launch at the end of this year, the new C4 model will replace the C-Quatre in the core 'three-box' C-segment.
The locally-produced 4-door car follows Dongfeng Citroën's launch of the C3-XR SUV. The new C4 is a C-segment saloon that will replace the C-Quatre at the end of the year. An important model for Dongfeng Citroën, the C-Quatre accounted for nearly 30% of Dongfeng Citroën's sales in 2014.
At 4.55m long, the new C4 is positioned in the core three-box saloon C-segment (known locally as the C-middle segment), positioned between the C-Elysée (C-entry) and the C4 L (C-upper). Dongfeng Citroën says the launch of this new model will ensure optimal coverage in the Chinese marketplace and is a "significant development in a country where C-middle segment saloon models accounted for 60% of passenger car sales in 2014 and where the C-segment as a whole represents more than one out of every two passenger cars sold".
New equipment for the new C4 includes a 130hp 3-cylinder petrol engine available with a manual or automatic gearbox, a touchscreen fitted as standard, hands-free access and start and a blind spot monitoring system.
Dongfeng Citroën's says the C3-XR SUV has already sold over 30,000 units since its launch in December 2014.
See also: 2015 Chengdu show: World premieres