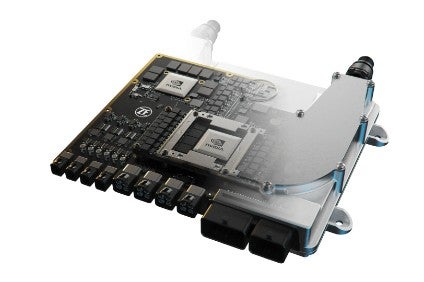 ZF has unveiled the latest iteration of its automotive supercomputer at the CES show in Las Vegas, maintaining it is the most powerful AI-capable processing system in the automotive field.
The German supplier's ProAI RoboThink is the first system to run NVIDIA's Drive AutoPilot L2+ starting in 2020. ZF's ProAI product family can be configured for any application – from a basic ADAS function to fully autonomous cars, commercial vehicles and industrial applications.
Customers can also specify their software architecture – especially for Mobility-as-a-Service applications. In the wake of services such as ride hailing, ZF also premiered its own software stack for new mobility concepts at CES.
This stack together with the latest ZF Pro AI and the company's sensor set represent a fully integrated system for driverless vehicles that can be adopted by new players in the field of mobility services.
"The high computing power is what makes mobility as service applications, for example robotaxis," said ZF CEO Wolf-Henning Scheider. "We are the only supplier of an automotive supercomputer to meet this timeline of NVIDIA.
"We are taking advantage of the fact only ZF offers a supercomputer that is ready for volume production. Our open, flexible, modular and scalable ProAI product family allows for just the right configuration of any application – for a variety of industries, and across all levels of automated driving."
Greater processing power and artificial intelligence are prerequisites for autonomous driving functions from Level 4 and higher. A high-performance processing unit is essential to analysing 360-degree environmental surroundings while monitoring the vehicle interior and position of the occupants to help enhance safety and vehicle control.
The latest generation in the ProAI product family comes with its own graphics processor, offers a computing performance of more than 150 teraOPS (the equivalent of 150 trillion calculation operations per second) and can be modularly combined with up to four units, corresponding to a total performance of 600 teraOPS.
"Their [ZF] agility and system expertise has resulted in the incredibly rapid development of the ProAI platform enabling L2+ through L4/L5 robotaxi vehicles, leveraging NVIDIA's DRIVE Xavier processors and software," said NVIDIA VP of autonomous machine, Rob Csongor.
"ZF is now able to deliver to car makers advanced L2+ self-driving technology for production starting in 2020 and the ability to quickly scale to higher levels of autonomy.
Today, humans are killing [in driving accidents] 3,000 people every day. I believe we look at these things from a results perspective and of course we are motivated by the moral mission, which is to save lives."
With four models, ZF can cover virtually the entire range of possible application scenarios and use cases. The ProAI Gen1 is an entry-level model that complies with virtually all NCAP 2022 standards. The ProAI Gen2 has sufficient computing potential to enable partially and highly automated Level 2 and Level 3 driving.
The ProAI Gen3 offers broad modularity and can combine various chips on up to three performance boards. This should provide enough computing power for real time processing of the data required for automated driving up to Level 4.
The latest model, the ProAI RoboThink – with its scalable computing power and its own graphics processor – is the most powerful high-end solution and is suited for autonomous driving applications from Level 4 and above.