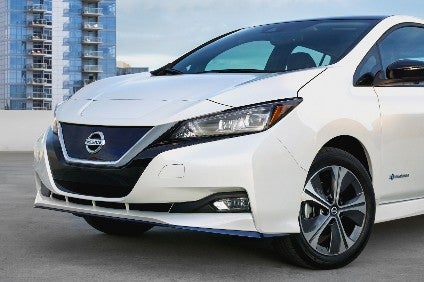 Nissan might consider borrowing the Ford tagline Go Further for its new Leaf e+ with driving range extended by a claimed 40%.
This is due to a new 62 kWh battery pack and higher output powertrain. EPA estimated range is up to 226 miles, from the 150 of the launch models.
The new 160kW motor produces 45% more power and 250 lb ft (340Nm) of torque so acceleration from 50mph (80km/h) to 75mph (120km/h) is almost 13% quicker. Top speed has increased by around 10%.
There has been some anecdotal evidence in the UK that battery cooling issues limit the ability to fast charge the current models on long journeys. A new 70kW (100kW peak) quick charging system is optional in the US for the e+. Based on early testing, Nissan said, owners can expect similar charging times when hooked up to a 100kW charger as current owners do with a 50kW charger despite the 55% larger battery.
There has been a 25% increase in energy density and increase in energy storage capacity, but the e+ battery pack is almost the same size and configuration as the launch model pack. Other than a 5mm increase in overall height (16-inch wheels), the car's dimensions are unchanged inside or out.
The e+ will be sold as the Leaf Plus Series in the US and Canada, with S, SV and SL trim designations.
Globally, the vehicle will be referred to as the Nissan Leaf e+.
US sales are expected to begin in spring 2019 and European sales mid-year.
The additional models are distinguished by a revised front fascia with blue highlights and an e+ nameplate on the underside of the charge port lid.
There will also be a rear trim level badge for the US and Canada.