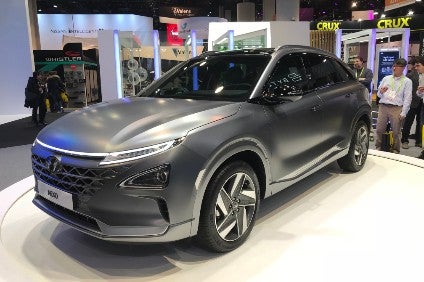 Hyundai claims its latest fuel cell vehicle (FCV), the Nexo FUV (future utility vehicle), launched this week at the CES show in Las Vegas, has world-best FCV efficiency and a 370 mile range – 40% or 105 miles more than its predecessor. Acceleration and power have increased and the car can be refuelled in five minutes.
The car has a 120kW power output and Hyunda said cold start reliability, a challenge for FCV engineers, has been improved – the car will still get going within 30 seconds in temperatures as low as -20F.
Powertrain durability of 10 years/100,000 miles is on par with ICE engines.
"The Nexo will spearhead Hyundai Motor 's plans to accelerate development of low emission vehicles, in line with the group's renewed goal of introducing 18 eco-friendly models to global markets by 2025," the automaker said.
The Nexo introduces much new technology including a claimed industry first Blind-spot View Monitor which shows drivers on a centre cluster screen the rear and side views using cameras while changing lanes in either direction. The system uses wide angle surround view monitors (SVM) on each side of the vehicle to monitor areas that cannot be seen by a traditional rearview mirror.
Lane Following Assist is an new to Hyundai and introduced with the Nexo. LFA automatically adjusts steering to help keep the car centred in its lane at speeds between 0 and 90 miles per hour on both highways and city streets. Highway Driving Assist (HDA) uses sensors and map data to ensure safe operation as well as automatically adjust speed in limited environments.
Remote Smart Parking Assist (RSPA) enables the car to autonomously park or retrieve itself from a parking space with or without a driver in the car and can back it into a parking spot by itself.
Unlike the Tucson FCV launched five years ago, the Nexo is built with a dedicated vehicle architecture for lighter weight, improved power-to-weight ratio, faster acceleration from 0 to 60 mph than the Tucson, more cabin space, battery relocation to the boot and an improved fuel cell system layout.
The powertrain is lighter and has improved packaging and there are now three improved hydrogen storage tanks.