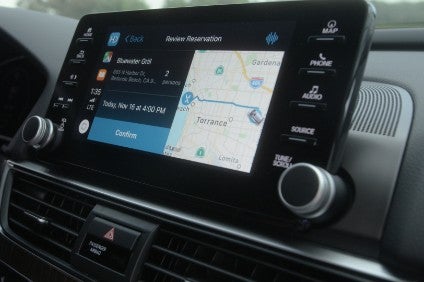 Honda has showed off Dream Drive, a prototype of what is says is the auto industry's "first integrated driver and passenger infotainment, commerce, services and rewards dashboards within the vehicle environment", at CES 2019.
It's been to Vegas before. First shown as a concept at CES 2017, the system has evolved to offer a broad range of services and entertainment while minimising driver distraction. It was developed in collaboration with Connected Travel, a connected vehicle platform and application services company.
The new prototype mobile-based dashboards provide services and experiences specifically for both drivers and passengers.
Driver mode highlights the expansion of the in-vehicle payment technology concept, first introduced at CES 2017 with Visa. It enables drivers to pay for goods and services and share the driver's location with friends and family.
Passenger offers mixed reality games, movies, music, original comics stories, travel applications, route POIs and control of radio and other cabin features from the passenger's mobile device.
Customers will have access to Dream Drive content and other convenience options provided by collaborators.
"Honda has teamed up with industry leaders who want to understand how to best provide in-vehicle services to our customers," said John Moon, managing director, strategic partnerships, Honda Innovations. "These collaborations are important to test consumer desire so we can understand how to mutually serve our customers."
Dream Drive is voice and touch enabled.
Since 2016, Honda has worked with Visa on the in-vehicle payment experience and, in the US, is now adding Mastercard and PayPal.
Also in the US, Honda Developer Studio is user testing a new points-based rewards programme for drivers and passengers who earn rewards points for participating in a variety of activities including purchasing services, watching and listening to media, and playing games.
"The gamification of everyday travel experiences with rewards points provides a unique opportunity to connect with drivers and passengers, to establish a more personal engaging relationship with them," said Bryan Biniak, CEO of Connected Travel.