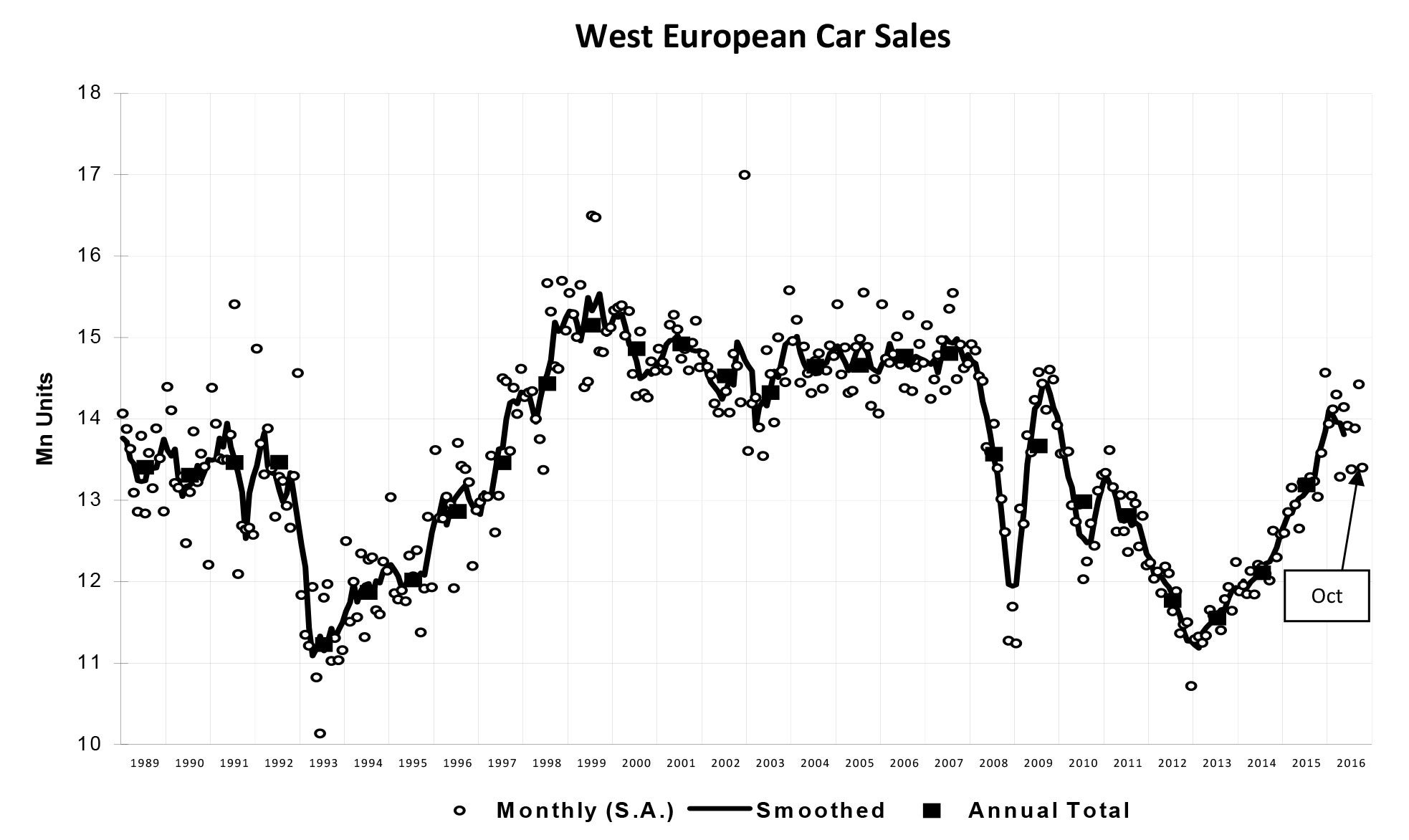 Car sales in Western Europe fell by 1% year-on-year (YoY) in October, with one fewer selling day, according to data released by LMC Automotive.
LMC said the annualised sales rate for the region dipped to a disappointing 13.4m units a year.
Car sales were down 5.6% in Germany, while the French car market was down 4%.
The Spanish car market cooled in October, growing by just 4% on last year, contrasting with double-digit growth rates earlier in the year. Spain's car market is now adjusting to the end of the PIVE scrappage scheme.
However, car sales in Italy maintained strong growth, with a 9.7% gain.
LMC said the UK car market has, so far, not shown any major after-effects from the June Brexit vote with new registrations up 1.4% in October.
So far this year, the West European car market is up by 6.3% and LMC says it remains on course to finish the year at 13.9m units, a solid improvement over the 13.2m units for 2015. LMC forecasts further growth in 2018, albeit at a slower pace headwinds in the form of higher car prices and slowing economic growth hitting the UK.
Sales (units)
Selling rate (units/year)
OCT 2016
OCT 2015
Percent change
Year-to-date 2016
Year-to-date 2015
Percent change
OCT 2016
Year-to-date 2016
Year 2015
Percentchange
WESTERN EUROPE
1,046,298
1,056,536
-1.0%
11,782,016
11,085,966
6.30%
13,398,262
13,875,944
13,185,678
5.20%
AUSTRIA
26,344
25,149
4.80%
279,180
262,342
6.40%
328,257
325,392
308,555
5.50%
BELGIUM
41,969
39,474
6.30%
466,352
431,996
8.00%
534,757
538,645
501,066
7.50%
DENMARK
17,058
16,873
1.10%
185,511
171,757
8.00%
205,385
220,271
207,354
6.20%
FINLAND
9,162
9,167
-0.1%
101,776
91,897
10.80%
113,816
119,227
108,811
9.60%
FRANCE
155,201
161,737
-4.0%
1,656,065
1,583,172
4.60%
1,834,704
1,982,800
1,917,295
3.40%
GERMANY
262,724
278,372
-5.6%
2,818,750
2,686,310
4.90%
3,142,246
3,368,721
3,206,042
5.10%
GREECE
5,179
4,946
4.70%
68,395
63,130
8.30%
68,871
79,296
75,805
4.60%
IRELAND
2,243
2,559
-12.3%
145,785
123,656
17.90%
127,718
138,743
124,944
11.00%
ITALY
146,632
133,610
9.70%
1,552,056
1,330,883
16.60%
1,783,943
1,816,665
1,574,651
15.40%
LUXEMBOURG
4,077
4,398
-7.3%
43,460
40,425
7.50%
49,154
50,484
46,473
8.60%
NETHERLANDS
30,189
38,819
-22.2%
316,088
339,804
-7.0%
399,663
384,208
448,927
-14.4%
NORWAY
11,932
13,197
-9.6%
127,807
125,008
2.20%
140,693
153,679
150,686
2.00%
PORTUGAL
14,936
13,714
8.90%
173,780
152,008
14.30%
200,195
206,031
178,485
15.40%
SPAIN
83,248
80,058
4.00%
957,533
863,983
10.80%
1,149,178
1,138,506
1,034,245
10.10%
SWEDEN
31,840
31,563
0.90%
303,236
280,216
8.20%
373,833
371,387
345,053
7.60%
SWITZERLAND
23,396
25,236
-7.3%
255,579
264,829
-3.5%
284,308
314,484
323,783
-2.9%
UK
180,168
177,664
1.40%
2,330,663
2,274,550
2.50%
2,661,543
2,667,402
2,633,503
1.30%