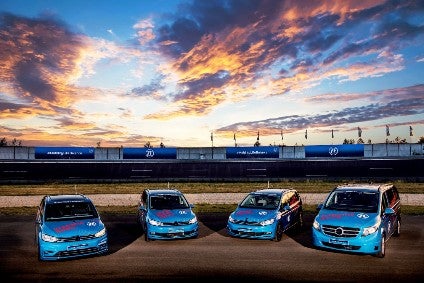 ZF start-up, Car eWallet has established 'smart fuelling' as an initial use case as it looks to capitalise on its spin-off from the German supplier.
At the start of this year, Car eWallet and energy provider, BayWa joined forces to pilot the concept of smart fuelling. With successful live test in the field, BayWa petrol stations are able to automatically facilitate transactions via the platform.
Outlining the concept at ZF's recent Technology Day in the Eastern German city of Dresden, Car eWallet CEO, Thorsten Weber, also mulled the possibility refuelling itself could eventually be carried out automatically.
"We use robotics for so many processes, I don't see any reason why there would not be a robotic solution to re-fuel," Weber told just-auto in Dresden. "It is about all fuels – it is another sales channel for them.
"With BayWa we have found a partner who is not only open to innovations, but eager to constantly and rapidly improve their services. We are ready to roll-out smart fuelling to the entire petrol station network of BayWa in the course of 2019."
With an integration into the vehicle on the one side and a connection of legacy infrastructure on the other, vehicles and service providers are able to process transactions directly and securely.
With a platform designed to be agnostic regarding hardware, software systems and user interfaces, Car eWallet plans to expand its service penetration and enable further service domains, including parking, later this year.
"The idea behind Car eWallet is ZF is working on creating technology for autonomous driving," added Weber. "It is not sufficient to equip a car to drive from A to B, it needs to interact with its environment and infrastructure around it. This is what eWallet does.
"On the other hand we have fleets. The assumptions we make for autonomous are mostly valid for fleet cars. ZF has a lot of experience in integrating technology into cars and scaling that. Fuelling today [for example] is not really fun – you lose time. We make [it] easier to standardise that.
"It [eWallet] started in 2016 in the ZF Internet of Things laboratory, which are ideas not necessarily related to the core business. We showed it at CES [Consumer Electronics Show] and got such positive feedback, the board decided to make it a spin-off.
"The speed we need to bring this to market is much higher than for an industrial part. We are system agnostic – it works with every IT system; we are hardware agnostic – it works with every car."
ZF first presented the Car eWallet service in 2017.
This provided an open automotive transaction platform for mobility-related services which will simplify technical services, digital trade and cashless payments between manufacturers, suppliers, service providers and customers.