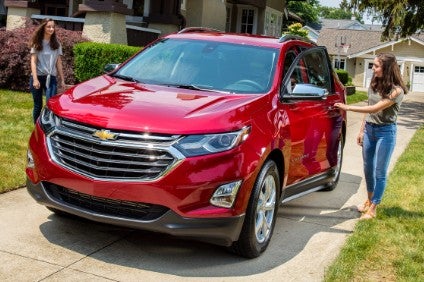 Workers at General Motors CAMi assembly plant in Ontario, Canada, want a resolution to the contract impasse that has them on the picket line this week while a looming shortage of a popular SUV the plant makes – in parallel with a Mexican factory – gives GM an incentive to make this a short-term stoppage.
The Detroit Free Press said a long-term shutdown at the plant in Ingersoll could mean that buyers looking for an Equinox – currently one of GM's hottest-selling vehicles – might not be able to get what they want.
In a statement, the Unifor union said its members at CAMI Automotive had taken strike action after the company failed to address a key job security issue.
A central priority for the union is a commitment from the company to designating the CAMI plant as the lead producer of the Equinox. The strike began on Sunday (17 September) after the current contract ended.
Unifor said GM last July ended production of the Terrain in Ingersoll with all output moved to San Luis Potosi in Mexico, resulting in 600 layoffs. The Canadian plant now only produces the Equinox which is also made in Mexico.
Local (branch) 88 members at CAMI had voted 99.8% on 27 August to give their bargaining committee a strike mandate.
The plant, which began as a joint venture between General Motors and Suzuki in the late 1980s (to produce cars like the Suzuki Swift and Geo Metro) is now wholly owned by GM.
Analysts told the Detroit Free Press the situation would put pressure on General Motors.
"They build the Equinox at two other plants in Mexico, but they are still ramping up in those facilities. It is our expectation GM will want to get a deal done quickly since the new Equinox is one of the rare GM vehicles in lower supply and in demand," Joe Langley, associate director of North American automotive production forecasts at IHS Markit, said.
IHS Markit estimated GM would lose 872 units a day of Equinox production, a significant hit and one not likely to be covered by the two Mexican facilities — Ramos Arizpe and San Luis Potosi. The company sold 28,245 Equinoxes last month.
GM is also gearing up to produce right hand drive Equinoxes (along with the Spring Hill, Tennessee-built Acadia) for new markets in the Asia-Pacific region.
Kristin Dziczek, director of the industry, labour and economics group at the Center for Automotive Research in Ann Arbor, told the paper the impact on GM's bottom line would grow the longer the strike lasts. Consumers who want particular colours or options might not be able to get what they want and might be prompted to consider other compact SUVs, such as the Ford Escape, Toyota Rav4 and Nissan Rogue.
"When you start drawing down inventory levels, you might lose sales because of the lack of choice and the delay in getting exactly what the customer wants," Dziczek said.
Mike Van Boekel, Unifor Local 88 GM Unit chairperson, told the Detroit Free Press union members had tried to research that on their own recently, being told that it would be an eight- to 10-week wait to get a specific Equinox. He was sceptical that the strike would end quickly but he said the union is hopeful because the pressure is on both workers and GM.
"We don't want to lose customers and they want their vehicles so …the clock's ticking on both sides," Van Boekel said.
He noted that many workers have families and will struggle financially if the strike lasts for a long time.
"Our members are feeling it, but the clock's ticking on GM, too," Van Boekel said.
Reuters reported that, as of 1 September, GM only had enough inventory of the Equinox model to last 53 days, a rather tight level of supply for the automaker, but ,with production of the model also in Mexico, GM was better placed to withstand the impact of a strike.
The union had blamed the North American Free Trade Agreement (NAFTA) and Mexico's cheaper labour costs for the job losses which it called unjustified given strong sales of the Equinox crossover (and Terrain) assembled at the southern Ontario plant.
"Every member understands the importance of reaching a deal that secures production, and what that means to our families and the community," said Mike Van Boekel, Local 88 chair at the CAMI plant in the Unifor statement.
"The membership showed incredibly strong support for their bargaining committee throughout these negotiations."
Securing jobs was the key to a collective agreement to replace one expiring in September between GM and its 2,800 CAMI workers, Unifor president Jerry Dias said last February.
General Motors told Reuters it was disappointed that it was not able to complete a new agreement.
"We encourage Unifor to resume negotiations and to continue working together to secure a competitive agreement," GM Canada said in a statement.
AutoTrader.com senior analyst Michelle Krebs told the Detroit Free Press in an article published by USA Today that job security appeared to be the major concern for the union, which had said it was seeking new investment from the company. When production of the GMC Terrain was moved from the plant to Mexico earlier this year, it "shook the union," she said.
But Krebs noted that, while concerns about moving production to Mexico have been an issue, the plant was likely to face competition for new products from plants in Michigan and Ohio that make passenger cars but could be retooled to make SUVs, such as the Equinox. GM, like other companies, is grappling with a consumer shift away from cars and toward SUVs and trucks.
"There's definitely going to be some adjustments in car production," Krebs said. "The union's clearly looking out into the future, and it's going to have more competition."
Specific details on what each side had been seeking in the negotiations have not been released, the report noted.