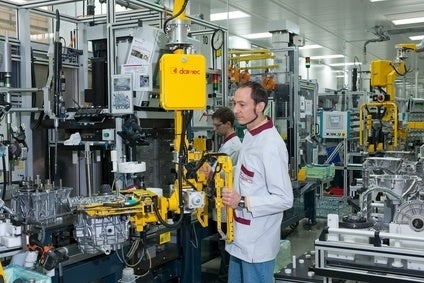 Magna says it has inked an agreement to acquire automotive transmissions supplier, Getrag Group in a deal worth EUR1.75bn (US$1.9bn).
Getrag has an 80-year history in transmissions, offering systems which include manual, automated-manual, dual-clutch, hybrid and others.
In particular Getrag is involved with dual-clutch transmissions (DCT), a sector expected to be one of the highest growth segments globally during the next decade.
Just-auto's Automotive supplier research service, QUBE expects the number of DCTs fitted worldwide to grow significantly from 4.9m in 2014 to 12.7m by 2020 and 18m by 2030.
In 2014, West Europe and China were the most significant markets for the DCT accounting for 1.7m and 1.5m units of volume respectively.
In addition to its wholly-owned operations, Getrag has joint-venture relationships with Ford, as well as Chinese auto makers Jiangling and Dongfeng.
Other Getrag customers include BMW, Daimler, Renault, Volvo and Great Wall. Including joint-venture locations, Getrag has around 13,500 employees and operates 13 manufacturing and 10 engineering centres in nine countries in Europe, Asia and North America.
Getrag's 2014 consolidated sales were around EUR1.7bn, which excludes EUR1.6bn in sales generated in its non-consolidated joint-ventures.
"As part of our ongoing product portfolio review, we have identified the expansion of our powertrain business as a strategic priority," said Magna CEO, Don Walker.
"Getrag is an excellent fit with this strategy. Getrag is a technology leader in a product area that we believe is well-positioned to benefit from industry trends driving increased vehicle fuel-efficiency and reduced emissions.
"Getrag's joint venture relationships also provide significant growth potential in China, the world's largest automotive market and the fastest growing market for DCTs. Lastly, Getrag has a highly capable and experienced workforce, including deep powertrain engineering expertise."
The purchase price for 100% of the equity of Getrag is around EUR1.75bn.
This represents an enterprise value of around EUR2.45bn less proportionate net debt and proportionate pension liabilities, which together are estimated to be approximately EUR700m at closing.
The purchase price is subject to working capital and other customary purchase price adjustments.
The transaction is expected to close near the end of 2015, subject to a number of conditions including obtaining all necessary regulatory approvals.