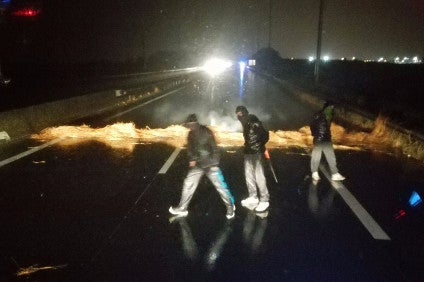 Britain's Freight Transport Association (FTA) says a chainsaw threat on one of its members at the Port of Calais this week (1 August), is not unusual as the number of desperate migrants at the burgeoning 'jungle' camp continues to grow.
The crisis of refugees looking to enter the UK has largely passed under the radar this summer as Europe reels from a series of terrorist atrocities, but reports from Calais estimate the total camped in appalling conditions to have soared to around 7,000.
Numbers fleeing from turmoil across the Middle East – as well as potential economic migrants – may have been given impetus following the UK's decision to leave the European Union – with some believing London will imminently impose far stricter border controls.
But this week (1 August), migrants have set fire to barricades across the motorway to stop lorries, with one Belgian driver also reporting being threatened with a chainsaw as he tried to reach the port, triggering an email to the FTA representative in Brussels urging action.
"This [threats] is not unusual, it is not unprecedented," an FTA spokeswoman told just-auto. "A chainsaw [takes] it up a little more, but it is [also] bricks thrown through windscreens, it is not unusual.
"Whether the Brexit vote has had an impact, we don't know for sure. Maybe people think it is their last chance to get across. For those truck drivers who do this journey week in week out, this has become part of their job and it is not acceptable."
The UK maintains a controversial immigration presence at the Port of Calais – known as the Le Touquet agreement – which some French politicians have called to be moved back to Dover following the British decision to quit the Brussels club – but the FTA is urging the so-called 'juxtaposed border controls' be maintained.
The Association claims moving the controls to Dover would create major disruption on Channel crossings as infrastructure on the UK side is not scaled up to handle 100% checks on vehicles entering the country.
These checks are vital, insists the FTA, as lorry drivers are often threatened as they approach the French port, with migrants slashing curtain sides and prising open doors to stow away on their vehicles in an attempt to reach the UK.
"FTA recognises the pressures on governments on both sides of the channel in terms of domestic security," said FTA EU affairs manager, Chris Yarsley.
"However, the juxtaposed border controls and security investments must continue to help guarantee the security of UK-bound drivers and vehicles who simply wish to perform their job and continue to deliver the UK economy.
"A lot of bilateral cooperation and investment has already taken place – it would be against both nations' interests to remove what is already in place and functioning. Improving what is there is the key – not taking it away."
The FTA adds changing the current arrangement would cause major congestion in Dover Port and lead to Operation Stack, where British police hold vehicles on motorways in case of industrial action or bad weather, being replicated at sea with ferries instead of HGVs.
The body has equally participated in Brussels workshops to help the European Commission in its work to produce guidance for commercial drivers to help prevent people smuggling.
"FTA welcomes the continued investments in security around both the Port of Calais and the Eurotunnel facility," said Yarsley.
"The Association understands the extreme pressure the French government is under at the moment but would ask them to continue to deploy police and gendarmes to ensure the safe passage of drivers and their vehicles in the coastal area."