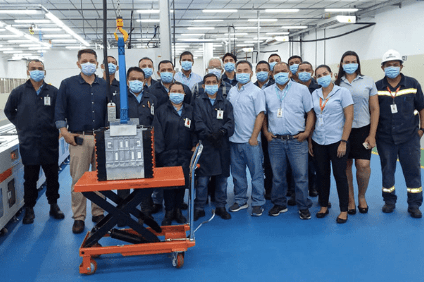 Chinese automaker BYD plans to invest CNY28.5bn (US$4.2bn) to build a new electric vehicle (EV) battery plant and a lithium mining and processing project in Yichun, in China's Jiangxi province.
The company signed an agreement with the Yichun city administration last week to build a facility with an initial production capacity of 30 GWh per year, while the lithium operations have a targeted annual output of 100,000 tons of lithium concentrate per year.
Leading battery manufacturer Contemporary Amperex Technology Company Limited (CATL) is also building a 50 GWh plant in Yichun to tap into the region's rich lithium resources, while Gotion High-Tech completed construction of a 30 GWh plant in the region earlier this year.
BYD is understood to be the world's third-largest manufacturer of EV batteries, with output of 24 GWh of mostly lithium-iron-phosphate batteries in the first half of 2022 according to estimates released by South Korean consulting firm SNE Research. The automaker also supplies batteries to other automakers, including EV rival Tesla.
BYD's global vehicle sales surged 300% to 800,371 units in the first seven months of 2022, including a 242% rise in EV sales to 404,511 units and a 384% jump in plug-in hybrid sales to 395,860 units. In March the company ceased production of conventional petrol-powered vehicles.
Earlier this year the company invested CNY3bn in a stake in local lithium producer Shenzhen Chengxin Lithium Group. It also has a joint venture with Qinghai Salt Lake Potash Company Ltd and is reported to be in talks to acquire lithium mines in Africa.