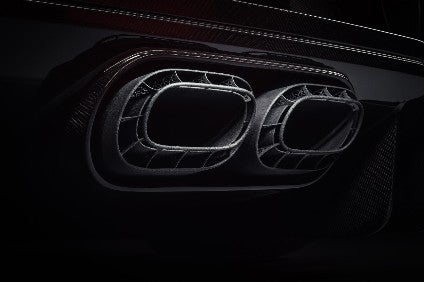 Bugatti is using 3D printing to produce titanium tailpipe trim covers for its hyper sports car. The cover is the first visible part to be 3D-printed in metal officially approved for use on the roads.
The approximately 22cm long, 48cm wide and 13cm high trim cover at the rear of the Chiron Pur Sport weighs just 1.85kg including grille and bracket – some 1.2kg less than the cover on the Chiron.
Four 400-watt lasers simultaneously print titanium to produce the component – the wall thickness at the thinnest point is 0.4mmm. Approximately 4,200 layers of metal powder are stacked on each other and are firmly fused together.
"Wherever possible we designed the trim cover with a single layer so as to further reduce weight," said Nils Weimann, head of body development.
"The minimal material thickness in multi layer areas is made possible by its so called lattice structure where the cavity is filled with numerous filigree struts. In this way, the walls provide stable support for each other during the construction process enabling minimal use of material.
"We use a bionic honeycomb structure in the single-layer area to increase the surface rigidity of the walls. Even large components gain a high degree of surface stiffness."
The filigree cover is still able to withstand temperatures of over 650C. This is because the outer wall is double layered for thermal insulation. In this way, the cover protects surrounding components from excessive heat dissipation under full engine load. At the same time, fresh air around the cover cools the component.
Bugatti has been using 3D printing since 2018.
It takes several days to print the exhaust trim cover. After printing with Inconel 718, material testers scan the component in a computer tomograph (CT) to detect any misprints with air inclusions. In the case of the titanium printing, test engineers measure the component optically using the 3D process.
Thanks to the extremely thin walled design, air inclusions of any relevant size can already be detected on the outside. The cover blank is then finely blasted with corundum and elegant protection is applied in the form of a high temperature black ceramic paint finish.