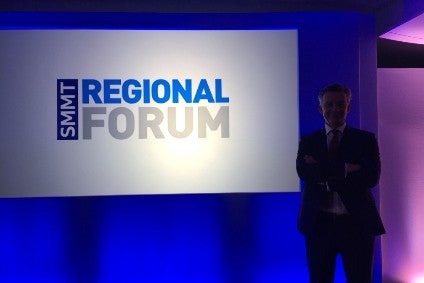 UK automotive body, SMMT (Society of Motor Manufacturers and Traders) says there is an element of "brinkmanship" to the current tough negotiations between the European Union (EU) and Britain as Brexit talks start to enter the end game.
This week's (18 October) talks between 27 EU Member States and London have seen yet another twist added to the already tortuous process of the UK's exit from the Brussels organisation, with the suggestion a transition period after March next year could be extended by up to a year.
Despite the talks taking place in Brussels, SMMT chief executive, Mike Hawes nonetheless pronounced himself 'hugely disappointed' with the lack of progress in negotiations, adding no deal was not an option and nor was a limited Canada-style trade agreement.
"There is always a degree of brinkmanship," Hawes told just-auto on the sidelines of the recent Regional Forum in the UK Midlands city of Derby shortly before the European Council meeting in Brussels. "Minds have been concentrated for many months [and] industry is already [starting] to plan.
"In terms of the [British] Prime Minister's speeches [she] often references automotive. Chequers [Prime Minister's plan for exit] is a step in the right direction [and there are] a couple of paragraphs on automotive. Brexit is an incredibly complex process. We are totally integrated into Europe in the supply chain and exports.
"In terms of our car market here, 82% of vehicles supplied in the UK come from abroad and Western Europe. As a sector, we have continued to say it is better to remain in the Customs Union and the Single Market. The Northern Ireland issue is still the sticking point, but the noises are there is some agreement on that.
"Under World Trade Organisation [tariffs] that will be catastrophic for the industry and would undermine our competitiveness. Chequers uses the term 'frictionless' – that is fundamental to the automotive industry. We need the withdrawal agreement to be secured [and] we need to secure the benefit of the Single Market."
The importance of a frictionless future was underlined this week by European automotive body, ACEA, which noted every day around 1,100 EU lorries cross the English Channel to deliver to car and engine plants in the UK.
ACEA says post-Brexit, even short hold-ups at customs could cause major logistical problems, disrupting the production process and generating significant costs.
"Europe is [one] of the regulatory powerhouses of the world and it has been very beneficial to this sector," added the SMMT chief. "We want to remain in the Customs Union, we need to keep access to talent.
"We continue to engage with influencers here [UK] and in Europe. A lot of our agenda is considered with other manufacturing sectors. Brexit is incredibly difficult – we hope there will be a deal.
"It is important as we leave Europe we strengthen those existing and emerging markets."