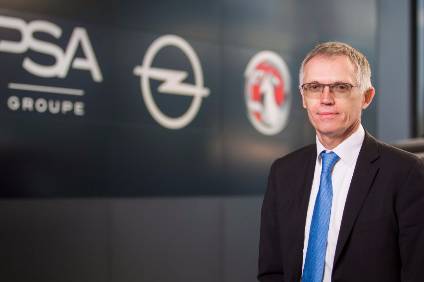 PSA is urging a rapid decision be taken between the UK and the European Union (EU) concerning on what terms Britain exits the 28-State trading bloc.
The French manufacturer made its comments on the day current British Prime Minister, Theresa May, formally tenders her resignation to the Queen and Boris Johnson assumes power, promising to implement a 'do or die' Brexit by 31 October.
An intensely divided British Parliament scuppered May's chances of leaving the EU bloc in March this year and there is no obvious evidence the mathematics of the House of Commons or the position of Brussels will change before Halloween.
Such uncertainty is causing severe headaches for manufacturers anxious to ensure supply chain continuity exists whatever the outcome of the protracted negotiations, which are further complicated by the imminent change in European Commission and Council presidents as well as a huge influx of new MEPs.
"Decisions are suspended and if we suspend decisions for ever, something bad will happen," said PSA chairman Carlos Tavares at a Paris briefing outlining the automaker's impressive first-half results, which saw net income soar 24% to EUR1.83bn (US$2.04bn).
"Deal, no deal, soft, hard, whatever, we need clarity. A no deal can't be considered. This would of course, be very bad for the UK, very bad for Europe, very bad for all.
"We have been doing great work with our UK team-mates. We have been working with our union partners in improving the efficiency of our plants, but we are business people and responsible people."
Tavares' comments will come as a sobering thought to Johnson as he takes the reigns at 10 Downing Street later this evening, with the new Premier obliged to conduct a delicate Brexit high-wire act between competing views in his own party and that of the opposition.
The implications of any no-deal outcome will be keenly felt in the UK, with PSA confirming last month it was planning to make the next generation Astra at Vauxhall's British Ellesmere Port, but that this would be subject to Brexit terms.
In a statement Vauxhall – the British brand for the Opel/Vauxhall European operations PSA purchased from General Motors – said: "We have been working hard to turn around the fortunes of the brand and to address the performance of the commercial and manufacturing divisions.
"Currently, the Vauxhall and Opel Astra are built in Ellesmere Port and in Gliwice – and our bestseller is still in the middle of its life cycle."
It also said the next generation Astra will also be manufactured in two plants in Europe: "The group has confirmed the Rüsselsheim plant will manufacture Astra and that it is planned that the second plant will be Ellesmere Port in the United Kingdom."
However, the decision on the allocation to the Ellesmere Port plant would be "conditional on the final terms of the UK's exit from the European Union and the acceptance of the New Vehicle Agreement, which has been negotiated with the Unite Trade Union."