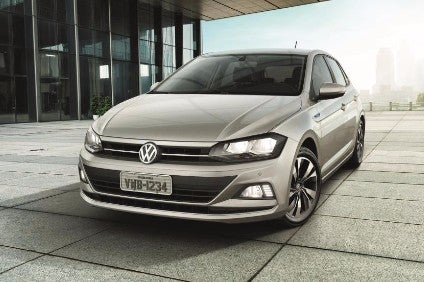 It's very rare for a completely redesigned car model made in Brazil to make its debut all but in sync with the European versions and launch.
Even better, the new, sixth generation Volkswagen Polo sets a new benchmark for subcompacts on sale here. It is not merely another entrant at the bottom of this segment but launches straight into the upper echelons already occupied by the Ford Fiesta, Citroën C3, Peugeot 208, Honda Fit and the recently introduced Fiat Argo.
The new VW model (the fourth generation was made here from 2002 until 2014) is notable for its dimensions, especially width (1.71m/67.3in) and wheelbase (2.56 m/100.7in), while the 300 litre/10.6 cu ft boot volume equals or exceeds any competitor.
There are three engine choices: normally aspirated, one litre/61 cubic inch, 73bhp/83bhp three cylinder (estimated 5% of sales mix); normally aspirated, 1.6 litre, 108.5bhp/115bhp four cylinder (25%) plus the one litre I3 in turbocharged 114bhp/126bhp form (70%, the higher power rating is on ethanol, up to 12% more than when running on petrol).
Turbocharged versions are coupled only to a six speed automatic gearbox with torque converter.
VW Brazil is betting so much on the model that minor styling changes have been made both at the front (mainly) and rear to distinguish the car from the German 'original' to please Brazilian buyers. Even the centre tunnel has been slightly lowered. There are air conditioning outlets and a USB plug for rear seat occupants, a feature of upscale models.
As in Europe, the Brazilian car offers the VW Group's 10.3 inch digital instrument cluster, which can display a full screen navigation map if desired, plus a driver oriented multimedia display.
Body design highlights include side creases and bold head and tail lamps.
Active and passive safety equipment puts the new Polo ahead of the locally produced subcompacts and it was the first car to be awarded a top score (five stars for adult, child and pedestrian protection) under new Latin NCAP protocols. On overall points, it ranked higher than the locally made, seven airbags Corolla (only four in the Polo).
Price positioning is competitive considering what the new model offers. Retails start at BRL49,990/US$15,700 and range to BRL69,120/$21,800. Including optional, launch promotion equipment for the high end 200 TSI model – the 200 is the torque in newton metres – the retail price climbs to BRL73,650/$23,200.
Maintenance and ownership costs are among the lowest amongst all similar size cars in the Brazilian market.
Driving the top, most powerful version in the city and on motorways confirmed just-auto's expectations of such a modern design. Driving position, visibility, prompt responses from the automatic transmission powertrain, ideal steering load, top grade suspension (a little softer than usual for the brand) and well sized disc brakes all around makes it almost unbeatable in its segment for now.
The sensibly shaped driver's seat with correct foam density and long fore-aft adjustment is well above average for the segment and enables fatigue free journeys. Rear seat occupants have ample leg, shoulder and head room.
The manual gearbox with the four cylinder 1.6 in the MSI version (both Comfortline and Highline have three cylinders) results in a tractable and smooth drive.
There are a few flaws, however. Interior materials and finish could be more sophisticated in keeping with the rest of the car. There are no roof grab handles (the Argo, for example, has three).