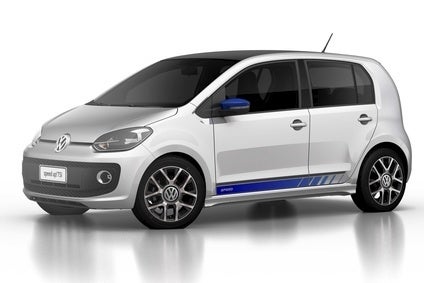 The launch of Volkswagen's Up TSi powertrain option is the first time Brazil has produced a car more advanced, in engine technology, than its sibling marketed in Europe.
As a broad rule, Brazilian model launches follow main markets with some delay and rarely is a new model rolled out some months earlier than a main or home market.
This new version of Volkswagen's entry level model is the first, direct injection, turbocharged engine with flexible fuel capability made locally (similar BMW and PSA Peugeot Citroën engines are imported). This powerplant is not even available in Europe. It will soon power the Up GT.
VW previously has offered a performance focused, one litre, turbocharged, petrol, port-injected engine in the Gol hatchback and Parati estate from 2000 to 2002 but that motor had four cylinders rather than three.
Yet the TSI – VW is not calling it the Up Turbo – is a perfect match of direct fuel injection and turbocharging within the current practice of using such technology to improve both performance and fuel efficiency. The engine gains 28% more power (103.5bhp from 80.9bhp) and 61% higher torque, (to 165Nm/121.7lb/ft from 102 Nm/75.2 lb/ft) compared with the normally aspirated engine (all figures on ethanol).
Even better it is about 6% more fuel efficient and becomes the most economical car in the country (under federal government rules), ignoring the Fusion and Prius hybrid models sold here.
Performance is equivalent to a 1.8 litre, normally aspirated engine but, at motorway speeds (75mph here) it can better 5l/100 km/57 mpg (on petrol) with the three pot engine humming at 2,900rpm in fifth gear, barely heard inside.
To achieve that, the final drive ratio was lowered 26% for best fuel efficiency – the gearbox ratios were left unchanged – and the new variant can still sprint from 0 to 62.5 mph (100km/h) in 9.1 seconds (on ethanol). Its elasticity is impressive due to peak torque from 1,500 through 4,500 rpm, keeping gearshifts to a minimum.
The turbo version is available for all versions bar the base Up for just BRL3,100/US$900 extra and there is a new Speed Up version (sporty trim and new wheels). The TSI versions retail from BRL43,490/$12,800 to BRL49,900/$14,700.
The TSI has a red 'I' badge and black tailgate plus a a 4 cm/1.57 in deeper front bumper to accommodate a larger capacity radiator in the nose cone.
The Up accounted for 2.4% of the compact hatch and saloon segment in the first half of 2015 and this is likely to rise to 3% after the TSI versions go on sale.