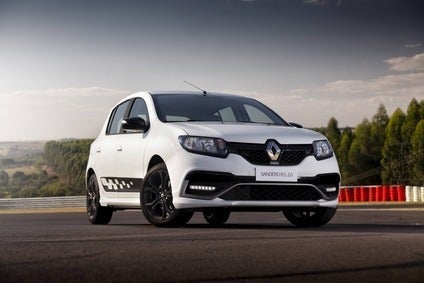 Renault has rediscovered a practically forgotten niche in the Brazilian market, sporty versions of more mundane cars. The [Dacia] Sandero RS, besides the sporting décor, features mechanical changes that distinguish it from 'sporting' competition. Among the differences, the engine is the two-litre 16-valve borrowed from the upper level Duster in lieu of the 1.6-litre eight-valve that powers the top Sandero Dynamique version together with a slight improvement in power (148bhp compared with 146 bhp, on ethanol) with the same torque resulting in a somewhat more lively character, especially in the upper engine speed range.
A new six-speed, close-ratio manual gearbox adds to the spirit of the new Sandero. It sprints from 0 to 62.5mph/100km/h in eight seconds flat and tops 126.2mph/202km/h (on ethanol).
New suspension settings, lower ride height, disc brakes front and rear, electronic stability control (ESC) with specific RS tuning and three driving modes (Standard, Sport and Sport+ with ESC off) characterise the sporty Sandero.
Outside, the main differences are new bumpers, wheels with 'black aluminium' finish, skirts, roof spoiler, twin exhaust outlets, external rear view mirror housing painted bright black and RS below the Renault logo on the grille and tailgate.
The rear spoiler is said to improve high speed behaviour by providing a 25kgf/55lb ft downforce at 94mph/150km/h, according to Renault.
The exclusive grille adds to the sporty stance, besides providing a colder intake air flow. Headlamps are black framed and feature LED DRLs unique in the Sandero range.
Interior design is cockpit-style with aluminium pedal pads together with sports, bucket seats and a 16.6-in/370mm (0.4in/10mm smaller) steering wheel. Instrument colours and lettering are RS-specific.
The car comes fully trimmed and this includes dashboard-integrated central multimedia with seven inch tactile screen.
The new models retails for BRL58,880/US$15,300. Seventeen-inch wheels with 205/45R17W tyres add another BRL1,000/$260.