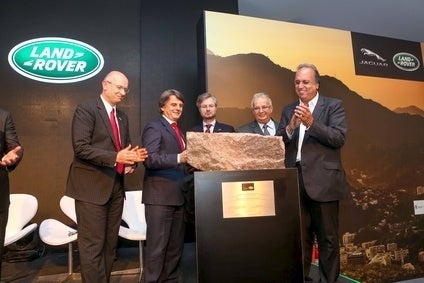 Jaguar Land Rover's local subsidiary has always been rather vague about what it will produce at its under-construction, BRL740m/$240m factory in Itatiaia, state of Rio de Janeiro, scheduled to start assembly of 24,000 units yearly of up to three models from the second quarter of 2016.
The only model confirmed officially so far is the Discovery Sport which began sales with imported units from England a few days ago starting at BRL180,000/$58,000. The plan is to sell 6,000 units within a year yet the domestic market slump will make that far from an easy mission.
However, a just-auto source has said the Range Rover Evoque would be first on the assembly line as we have long anticipated. This model accounted for nothing short of 60% of all Land Rovers sold here in 2014.
Thus the Discovery Sport would be on hold for late 2016. The third Brazilian made model is expected to be the new Jaguar XE.
All newcomers settling into Brazil have chosen to start local production with their best seller, like BMW 3 series (since last year), the up coming Mercedes-Benz C class by mid-2016, and the Audi A3 saloon in the second half of this year.