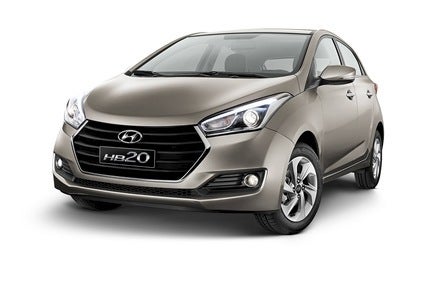 After producing the Brazil-only model for just three years – not one unit has been exported so far – Hyundai has made the first changes to the HB20. The i20-based compact hatchback now embodies the brand's evolution of design philosophy called Fluid Sculpture 2.0.
Novelties are more visible on the new, top Premium version: projector-type headlamps and LED DRL light strings. The front grille and bumper are also new. Taillights have been changed slightly.
The 1.6-litre/97.6 cu in version is now fitted with manual and automatic six-speed gearboxes. The auto previously had four speed and the manual five; six speeds all round puts it in a privileged position amongst competitors.
Hyundai, relatively little affected by the sharp Brazilian sales downturn this year, has also spent money on connectivity. The new entertainment centre with seven inch screen is Car Link- and Apple CarPlay-compatible which enables smartphone content mirroring via wi-fi that is a very useful feature for extremely popular apps such as Waze here.
Among new features, the highest-priced version includes digital air conditioning, automatically-folding outside mirrors, side airbags and a brownish seat upholstery for a plusher interior that is not common in this low end segment.
Similar styling and equipment changes have been made to the HB20X 'pseudo-adventurer' variant.