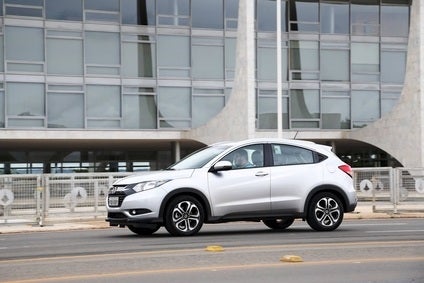 This is rare in terms of Brazilian product launches: three new models make their debut within 30 days to tussle over the same compact SUV (crossover) segment.
Honda Brazil's HR-V was first into battle and will be followed closely by the Jeep Renegade and Peugeot 2008 in the next few weeks.
Early in 2003, the original Ford Brazil EcoSport inaugurated what was then considered a little more than a niche. The Brazilian unit's original idea was a sales sky rocket and the Ford creation did not face any local competition until October 2011 when Renault launched the locally made Duster. The Mexican-built Chevrolet Tracker (aka Trax, Mokka in other markets )arrived in October 2013 but is subject to import quotas.
Other current and past contenders include the Suzuki Jimny originally imported from Japan in 1998 and axed in the second quarter 2003, only to return locally manufactured from 2012.
The 2002 Mitsubishi Pajero [aka Shogun Pinin] TR4 (unlike current crossovers in that it had part time 4×4 drive) sold quite well but was phased out late last December after 100,000 units had been produced.
Honda Brazil executives said the HR-V would be the new benchmark in the segment, thus making life hard for rivals. Compared to the market leader EcoSport, it is 5cm/1.96in longer overall yet larger inside thanks to a wheelbase 9cm/3.53in longer. Although it is 11cm/4.33in lower than the pioneering Ford rival only those taller than 1.85m/6ft 1 in will rub their heads on the roof liner and adjustable backrest angle can compensate somewhat for that.
Unlike the Ford, there is no spare wheel hung on the tailgate (the 437 litre boot is a useful size) and rear door handles are hidden in the C pillars.
The electronic climate control is not two zone but Honda has engineered a new type of dashboard vent vent with differential flow that is more easily adjusted by the front passenger.
Honda has specified an electric parking brake automatically releases when the accelerator pedal is pressed though 99% of HR-Vs sold in Brazil will have the CVT automatic gearbox option with seven 'virtual speeds' fitted. Some items such as automatic headlamps are not fitted instead.
Prices range from BRL69,900/US$21,500 for the LX manual with steel wheels which will take just 1% of sales. The intermediate EX sells for BRL80,400/$24,700, minus GPS. The top line EXL (BRL88,700/$27,300) does have GPS and a tactile touch screen that accepts smartphone-like fingertip commands.
The HR-V lacks power for its 1,271kg/2,802lbs mass. As with all CVT models, when full power is required the response is unenthusiastically linear. Under normal acceleration the engine note is fairly acceptable, though, and the transmission allows engine braking and manual 'ratio' selection.
The 1.8 litre flex fuel engine (same as the local Civic which does not have a CVT option) delivers 136 bhp on ethanol and 137 bhp on petrol.