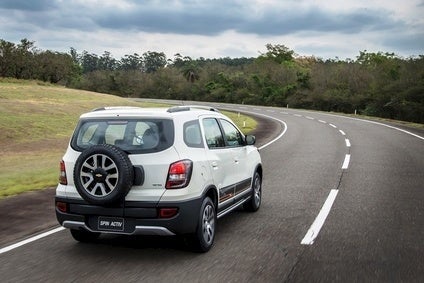 The new Spin Activ is the first mass-produced Chevrolet in Brazil to gain the 'adventurous look' – effectively SUV off-roader looks minus the actual off-road ability.
This new version gets the spare wheel hung on the tailgate and a slightly higher ride height plus 16 inch light alloy wheels, wheel arch and door sill trim, a wide side decal and full lengthroof bars. All well known add-ons in this segment unique to Brazil.
Opening the rear cargo door opening is a two stage operation: first unlock (manually or using the remote key fob) and then set aside the spare wheel support to its stop. This requires leaving a gap between the car and walls or other vehicles.
Besides a roomy passenger cabin, the luggage compartment holds 710 litres/25 cu ft not counting a sizeable box under the rear boot floor used for the spare wheel in the standard models.
Distance sensors in the rear bumper are standard in order to warn the driver the spare wheel might damage other cars when reversing.
The new, second generation (GF6-2) six-speed epicyclic automatic shifts gears up to 50% quicker and doubles or even triples the speed of downshifts. It mases its Brazilian debut in the Spin Activ and will be fitted progressively to other local Chevrolet models.
Suspension travel was not increased. The 8mm/.31 in ride height increase is due to larger diameter wheels and 205/60R16 tyres. Engineers also recalibrated spring and damper settings to match the weight redistribution.
In all, the Spin Activ has gained 60kg/132lb over regular models, enough to make it feel a bit sluggish when accelerating hard to recover speed or from rest.