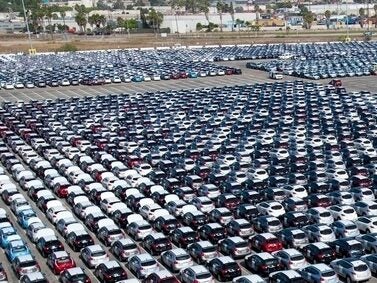 Production and sales results have been gloomy in Brazil all year but recent confirmation of four new auto investments provided some relief although all had been announced previously.
Last month, the sector sold 227,600 light and heavy vehicles, down 22.8% year on year. The year to date tally was off 21% to 1.55m.
July production was down 14.9% year on year to 215,100 units. Inventories (some 50% larger than usual) declined just one day from 46 to 45 days' supply. Year to date, production was down 18.1% to 1.49m.
Auto industry lobby groups now predict full year production to plunge to the level of nine years ago with sales off 30% from the record 2012 tally.
Luiz Moan, president of Anfavea, said the "scenario remains complex especially due to consumers and investors [lack of confidence]. The outlook will remain particularly challenging".
Other factors hindering sales include inflation and high taxes, restricted availability of financing and unemployment. In the auto industry alone (excluding components) 20,000 jobs have been lost in the last 19 months despite the opening of new BMW, Chery and Jeep assembly plants.
GM has just dismissed 789 workers from its São José dos Campos plant. Mercedes-Benz has announced dismissals will start from 1 September at its São Bernardo do Campo plant where 2,000 employees are currently idled with all other options, apart from termination, exhausted.
Amidst this negative scenario, Toyota has announced the creation of 500 new jobs in the inland state of São Paulo. Of these, 180 will be at the new Porto Feliz engine factory to be opened in the first half of 2016 and the job count should grow from then. The remaining 320 will be hired to increase Etios and Corolla production in Sorocaba to 108,000 units yearly from 74,000 currently.
Hyundai has broken ground for its new BRL100m/US$30m R&D centre scheduled to open by the end of 2016. The initial focus will be on developing flexible fuel engines but the automaker has yet to announce how many new employees it will actually hire for the new facility in Piracicaba (São Paulo state) alongside the HB20 car assembly plant.
Chery is spending BRL340m/$100m to assemble the Tiggo 5 compact SUV by the end of 2016 and that will open up 220 new jobs on the expanded assembly line in Jacareí (São Paulo).
The biggest investment is GM's. By 2019 its full Brazilian range of cars and compact pickup trucks (six in all) will be renewed, including engines. On this, GM will spend BRL6.5bn/$1.9bn.