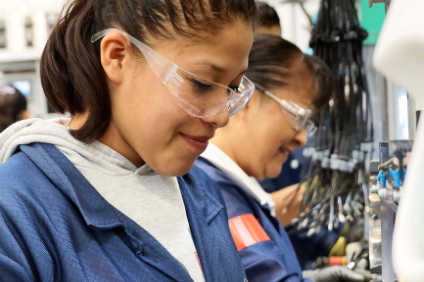 Bosch says it is preparing for further growth in Mexico.
To strengthen its local presence in Mexico, the Bosch Group has just set two milestones in the country: at its existing site in San Luis Potosí, the global supplier of technology and services has opened a new powertrain engineering centre. At the same time, local automotive technology manufacturing capacity will be expanded. Between 2015 and 2018, Bosch will invest roughly EUR72m (US$78.607m) in expanding the location. The plant in San Martín Obispo has also been expanded at a cost of nearly EUR9m: an additional building is intended to create extra space for the production of hydraulic systems. With these recent investments, Bosch is reacting to increased local demand and preparing for further growth in the region. "We expect all our business sectors to continue to develop positively in the current year," said René Schlegel, president of Bosch Mexico. "To be prepared adequately, we're planning to invest more than EUR90m this year." Moreover, the company aims to hire more than 3,000 new associates locally – most of them in San Luis Potosí and San Martín Obispo. Today Bosch employs over 13,000 associates in Mexico, one-third more than in 2012.
Long-term presence in Mexico
Bosch has now expanded four of its locations in Mexico this year. In Aguascalientes, the company started the production of vehicle safety systems such as ABS (Anti-Lock Braking System) and ESP (Electronic Stability System) for the local market in mid-June. In Querétaro in the central Mexican region of Bajio, a new plant for automotive steering systems is to be built by 2019. It will cover an area of 15,000 square meters and be the eleventh Bosch location in the country (total investment: EUR70m). "Our investment in the new location underlines our confidence in the continued growth of the Mexican market and demonstrates our long-term commitment to the country," Schlegel said.
Bosch is therefore continuing to expand in Mexico. Over the past four years, the company has invested more than EUR360m in strengthening its local presence. Much of this has gone toward the Mobility Solutions plants in Toluca and Juárez, as well as the Security Systems plant in Hermosillo. In 2015, Bosch opened a new location in Tepotzotlán, manufacturing heating systems for the Mexican and Latin American markets. On the engineering front as well, Mexico is gaining momentum. Since 2014, Bosch has been operating a centre for software development and engineering services for the American market in Guadalajara.
Promising market for Bosch
Bosch has been present in Mexico since 1955. Today, the company is active in all four of its business sectors in the country. In 2015, the technology and services company generated consolidated sales of EUR861m in Mexico. And the Mexican market offers great long-term potential: the Nafta member state is the global automotive industry's seventh largest automaker and fourth largest exporting nation. Following growth of 2.5% last year, the International Monetary Fund (IMF) expects the Mexican economy to grow on a similar scale in the years ahead.
Bosch: main sponsor of the Year of Germany in Mexico
This year, a series of events in various Mexican cities will serve to emphasise the long-term partnership between Mexico and Germany. Bosch is one of the main sponsors of the "Year of Germany in Mexico" and will take part in many cultural events and exhibitions. "We want to emphasise the close long-term relationship our company has with Mexico," Schlegel said. Alongside mobility, the focal points of the initiative will include innovation, urbanisation, Industry 4.0, digital culture, and sustainability. The aim is to promote exchange on these topics and to deepen the understanding of German culture and the role played by German businesses in Mexico."