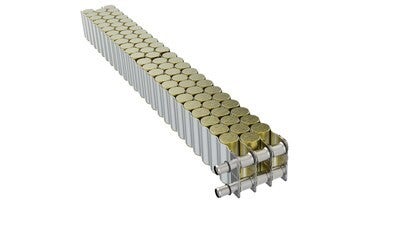 BorgWarner (BW) said it would supply "a major German vehicle manufacturer in Europe and the US" [likely BMW, Mercedes or VW – ed] with innovative battery cooling plates for electric vehicles.
The supplier claimed its plates provide cooling capacity in a more compact package with reduced weight and cost. The plate design also compensates for assembly tolerances.
"We've collaborated with this customer for more than 30 years as a technical partner, contributing to many new technologies that the customer has integrated into its vehicles," said Joe Fadool, president and general Manager, BW Emissions, Thermal and Turbo Systems.
The plates are extruded aluminum profiles which snake between the rows of cylindrical battery cells, conforming closely to their contours. This design ensures optimal contact with the cell's surface area for highly effective heat transfer. The plates are interconnected at their ends by a pipe circulating coolant to manage the temperature of the cells.
BW said its exhaust gas recirculation (EGR) cooler technology and expertise in thermal management positioned it well to pioneer new developments in battery cooling. Global factories ensure reliable supply to support customers' production schedules.