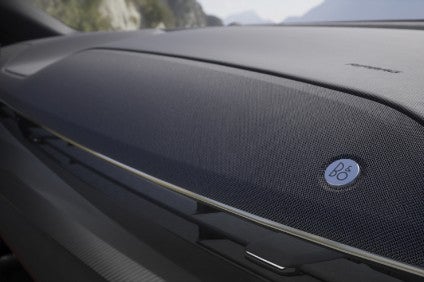 The growing desire for premium audio in vehicles and the emerging trend for creating "a more domestic feeling environment" has led to B&O supplying a new system for Ford's all electric Mustang Mach-E.
Ford said its human centric design philosophy and the fact drivers spend an average of four years of their life behind the wheel also contributed to the unique design which resulted in one third of the dashboard being dominated by the audio system.
This is the first Ford vehicle to give the audio system such prominence.
The specially developed Heathered Grey textile which conceals the dashboard mounted tweeters replicates the look and feel of the fabric based speaker covers of B&O's home speakers yet is robust enough for use in a vehicle, the automaker said.
"This not only gives all occupants of the Mustang Mach-E, including passengers both front and rear, a great audio experience and makes a significant style statement, it also helps to create an element of calmness. For drivers it makes being behind the steering wheel an even more compelling place to be," Ford said in a statement.
Audio system
An externally coupled subwoofer (ECS) uses the cabin's unique shape to produce powerful bass, despite being around half the weight of a traditional subwoofer and taking up around 80% less space.
The weight-saving is just one measure taken to help the Mustang Mach-E achieve a targeted WLTP driving range of up to 600km (370 miles) in rear-wheel drive configuration.
Drawing inspiration from the B&O sound system in the Mustang, Harman acoustic engineers re-examined the acoustic characteristic of the Mustang system to craft a similar sound.
Electric vehicles are inherently quieter thanks to a lack of noise from a traditional internal combustion engine, however this does reveal new sources of noise that are usually muffled. This was something the engineers overcame while leveraging the opportunities of a quiet EV cabin – preserving rich bass and maintaining clarity and detail.
Spoken voice
The speaker system tuning also makes the most of the spoken voice which helps audio books to be more immersive gives phone calls extra clarity and, with the growing trend of drive-in cinemas, can even convey the rich range of sounds in movies with high quality, Ford claims.
The infotainment system includes integrated apps for podcasts and is able to play them with optimum performance through the audio.
Additional technology
Over the air updates allow Ford to update the model almost regardless of location.
Nearly all computer modules can be updated wirelessly so performance enhancements and new features that don't exist when customers first take delivery can be added later.
The Mach-E is one of 18 new electrified vehicles Ford is launching Europe before the end of 2021.