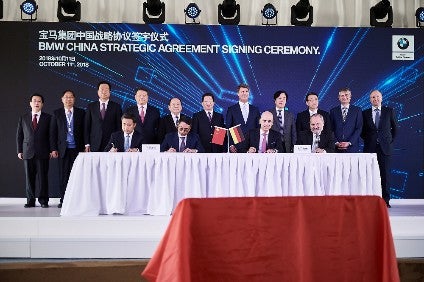 BMW Group is to increase its stake in its Chinese joint venture, BMW Brilliance Automotive (BBA), to a controlling 75% from the current 50%.
It is also extending the JV contract out to 2040, expanding production capacity and employment and will add new models.
The news came as the partners marked the 15th anniversary of BBA.
The joint venture also announced a spend of over EUR3bn on new and existing plant structures in Shenyang over the coming years. In Tiexi, a new plant on the existing plant ground will double the site's capacity, while the neighbouring plant in Dadong will be extensively remodelled and expanded. Production capacity there will remain the same, but the structure of the plant will gradually be expanded for future BMW model variants and the expected market growth.
Total annual production capacity of BMW automobiles at the BBA plants will gradually increase to 650,000 units from the early 2020s, creating 5,000 new jobs.
"We are consistently following our growth strategy for China. With continuous investment, as well as the development and production of electric vehicles, we underline China's importance as a dynamic growth market for us," said Harald Krueger, BMW's management board chairman.
In 2017, the BBA plants produced almost 400,000 vehicles. Currently, six BMW models are produced in Shenyang: Plant Tiexi manufactures the 1 Series Sedan, the 2 Series Active Tourer, the 3 Series Sedan (including long wheelbase version) and the X1 (including plug-in hybrid version). At Plant Dadong, the 5 Series long wheelbase version (including plug-in hybrid version) and the X3 are manufactured. From 2020, the fully-electric iX3 will also roll off the production line at Dadong, its sole production location, and be exported from China worldwide.
In the past 15 years, BBA has become a cornerstone of the BMW brand's success in China, the brand's biggest single market. In 2017, around 560,000 vehicles were delivered to customers in China. Two-thirds of all the vehicles sold in China last year were produced by BBA.
BMW China is launching 16 new products in 2018. In the first eight months of 2018, deliveries increased by 4.2% and, for the first time, exceeded 400,000 units. With a wide range of R&D activities and extensive local production, the company is poised for future growth, making a lasting contribution to the local economy.
BMW anticipates strong growth in demand for electric and electrified vehicles in China and is gearing production towards this trend. It offers six electrified models and, in 2017, more than doubled its sales of such vehicles and expects this growth to continue in 2018.
With its flexible production system, the new plant in Tiexi will be able to build vehicles with fully electric, partially electric and conventional drivetrains on a single production line.
"We are expanding our production system in Tiexi with a new plant. This new plant, together with the existing engine plant and battery factory, will put us in an ideal position," said Oliver Zipse, BMW's production chief. "With our highly flexible production system, we can respond quickly to market demand and would be able to ramp up production of electric vehicles to 100% of our output."
BBA opened its own battery factory in Tiexi a year ago and, in May 2018, the company laid the foundation stone for a major expansion of this facility. The new High-Voltage Battery Centre Phase II will produce new, more powerful batteries with fifth-generation eDrive technology for the fully-electric iX3.
BBA employs 18,000 people and its supplier network is 350 companies. More than 80 have set up locations in the Liaoning province.