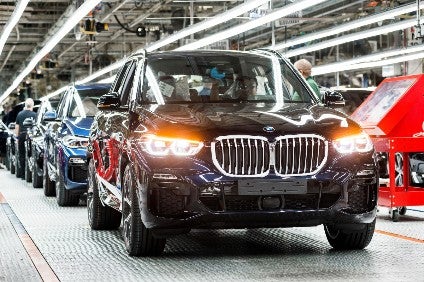 The BMW Group saw operating profit decline by 17% in 2019, but says it successfully met its targets, helped by a strong fourth quarter and sales of high-margin SUVs.
The company also said Q4 revenues reached their highest level ever for a single quarter, reflecting the growing proportion of vehicles from the upper luxury segment. Over the full year, BMW Group revenues exceeded EUR100bn for the first time (EUR104.2bn, +7.6%).
Full-year earnings before interest and tax (EBIT) fell to EUR7.411bn (-17% versus 2018). Net profit was down 28.9% at EUR5,022m.
"In 2019, we improved our profitability from quarter to quarter – despite a challenging market environment. This shows that we have the right products on the road and that our strategy is effective," said Chairman of the Board of Management of BMW AG, Oliver Zipse "We are embracing the transformation of our industry with confidence and trust in our innovative strength. We recognised the signs of change at an early stage and made preparations accordingly. Our full potential is now emerging – at exactly the right moment."
The BMW Group's profitability and profit before financial result improved from quarter to quarter over the course of 2019. The first quarter was impacted by the 'recognition of a provision for EUR 1.4bn following the receipt of a Statement of Objections from the EU Commission' in connection with ongoing antitrust proceedings. Group profit before tax for the second half of 2019 then grew significantly year-on-year (EUR4.3bn; +18.8%).
Fourth quarter deliveries of BMW, MINI and Rolls-Royce premium brand vehicles stood at 665,8031 units and thus increased slightly compared to the previous year (2018: 656,8231 units; +1,4%1). Q4 Group revenues rose significantly to EUR29,366m (2018: EUR24,482m; +19.9%) on the back of positive mix effects arising from the significantly higher proportion of vehicles from the upper luxury segment. The figure is the highest amount of revenues ever recorded by the BMW Group in a single quarter.
Q4 profit before financial result also improved significantly to EUR2,332m (2018: EUR1,765m; +32.1%), while profit before tax amounted to EUR2,055m (2018: EUR1,800m; +14.2%). The pre-tax return on sales (EBT margin) came in at 7.0% (2018: 7.4%).
In 2019, deliveries increased by 2.2%1 to a new record of 2,538,3671 units (2018: 2,483,2921 units). At EUR104,210m, Group revenues exceeded the 100bn euro mark for the first time (2018: EUR96,855m; +7.6%). Influenced by the above-mentioned provision recognised in the first quarter as well as by high levels of upfront expenditure for research and development, profit before financial result for the financial year 2019 finished at EUR7,411m (2018: EUR8,933m; -17.0%). As expected, headwinds also came from negative developments in currencies and raw materials prices.
In addition, as previously reported, positive valuation effects recorded in 2018 were not repeated in 2019 and contributed to a significant decline in the Group's financial result. Profit before tax finished accordingly at EUR7,118m (2018: EUR9,627m; -26.1%). The pre-tax return on sales (EBT margin) was 6.8% (2018: 9.9%). Net profit amounted to € 5,022m (2018: EUR7,064m; -28.9%).
Based on the annual financial statements of BMW AG, the Board of Management and the Supervisory Board will propose at the Annual General Meeting on 14 May 2020 payment of a dividend of EUR2.50 per share of common stock and EUR2.52 per share of preferred stock, leading to a dividend payout ratio of 32.8% (2018: 32.0%) of net profit. The total dividend payment would be approximately EUR1.65bn. "The trust of our investors has always been a high priority for us," said Peter. "We want them to participate in the success of the company, just like our employees are able to."
Free cash flow at solid level despite higher capital expenditure
Automotive segment revenues in the fourth quarter 2019 increased to EUR26,829m (2018: EUR23,217m; +15.6%) as a result of the positive mix effects described above. Profit before financial result also improved significantly to EUR1,825m (2018: EUR1,452m; +25.7%). The EBIT margin therefore improved both year-on-year and compared to the third quarter and amounted to 6.8% (2018: 6.3%).
Segment revenues for the full year 2019 climbed to € 91,682m (2018: EUR85,846m; +6.8%). Influenced by the above-mentioned provision recognised in the first quarter as well as by high levels of upfront expenditure for research and development, profit before financial result amounted to EUR4,499m (2018: EUR6,182m; -27.2%). The EBIT margin came in at 4.9% (2018: 7.2%). Excluding the above-mentioned provision, the EBIT margin was 6.4%. Profit before tax amounted to EUR4,467m (2018: EUR6,977m; -36.0%). Despite higher capital expenditure and lower net profit, the segment generated a free cash flow of EUR2,567m (2018: EUR2,713 million; -5.4%).
In total, 2,185,7931 BMW brand vehicles were delivered to customers worldwide in 2019 (2018: 2,114,9631 units; +3.3%1). Growth was particularly strong in the upper luxury segment, with volumes up by around 75%1 overall to more than 100,0001 units, thanks to new models such as the 8 Series. Deliveries of the all-electric BMW i3 rose by 13%1 to nearly 40,0001 units.
Focusing on profitable sales growth in an extremely competitive market segment, deliveries of MINI vehicles in 2019 totalled 347,4741 units (2018: 364,1351 units; -4.6%1). The plug-in hybrid MINI Cooper S E Countryman ALL4* was particularly popular, with deliveries up by around 28%1 to almost 17,0001 units.
Rolls-Royce Motor Cars recorded the best volume performance in the marque's 116-year history with 5,1001 units delivered worldwide (2018: 4,1941 units; +21.6%1). Growth was achieved in all regions, with North America standing out again as the most important market. The past year saw exceptional demand worldwide for the Cullinan and Black Badge models.
At 1,083,6691 units, deliveries of the BMW Group in Europe exceeded the one-million mark for the fifth consecutive year, even though the figure was slightly down on the previous year's high level (1,097,1171 units; -1.2%1). In contrast, deliveries in the USA went up to 375,7511 units (2018: 355,3731 units; +5.7%1). The biggest growth driver was China, where deliveries increased significantly to 724,7331 units (2018: 635,8131 units; +14.0%1).
Commitment to achieving CO2-targets
BMW also said it is continuously working to reduce the CO2-emissions of its new car fleet and 'will achieve the CO2 fleet target for its European new car registrations also this year' – a target that is around 20% under last year´s target. It said one third of that step can be achieved by further improvements to conventional drivetrain systems and two-thirds by the growth in the field of electrified vehicles.
By the end of 2021, the company intends to have more than onem vehicles with all-electric or plug-in hybrid drivetrains on the roads. At that stage, the BMW Group will offer five all-electric series production vehicles. Alongside the BMW i3, demand for which increased for the sixth year in succession, production of the all-electric MINI Cooper SE was commenced at the Oxford plant (UK) towards the end of 2019. The BMW iX3 will go into production this year at the plant in Shenyang, China, followed in 2021 by the BMW iNEXT in Dingolfing, Germany, and the BMW i4 at the Munich plant – all of which will be equipped with fifth-generation electric drivetrain technology.
By 2023, the BMW Group says it will have 25 electrified models on the roads – more than half of them all-electric. The key, it says, to achieving this objective is having intelligent vehicle architectures that, with the aid of a highly flexible production system, enable a model to be powered fully electrically, as a plug-in hybrid or with a combustion engine. With these prerequisites in place, the company is in an ideal position to meet demand in each relevant market segment and offer its customers a genuine power of choice between the various drive types. By 2021, demand for electrified vehicles is predicted to double compared to 2019. The BMW Group then expects to see a steep growth curve up to 2025, with sales of electrified vehicles growing on average by more than 30 per cent p.a.
High upfront expenditure for future mobility
In paving the way for the future of mobility, a substantial level of upfront expenditure was again required during the period under report. Research and development expenses for the year 2019 in accordance with IFRS totalled EUR5,952m, significantly up on the previous year (2018: EUR5,320m; +11.9%). The growing proportion of electrified vehicles is also driving up manufacturing costs. Exchange rate factors and rising prices for raw materials also put downward pressure on earnings. Capital expenditure for property, plant and equipment and other intangible assets increased by 12.3% to EUR5,650 million year-on-year (2018: EUR5,029 million) due to the first-time application of IFRS 16. Investment was made mainly in connection with continuing the new model initiative as well as the modernisation and flexibilisation of existing plant structures.
Workforce size at previous year's level
As forecast, the BMW Group's workforce at 31 December comprised 133,778 employees, similar to the level one year earlier (2018: 134,682 employees; -0.7%). In particular, the Group continues to recruit skilled workers and IT specialists in future-oriented fields such as software development, digitalisation, autonomous driving and e-mobility, as well as for its international production network.
From the beginning of the financial year 2020, the key performance indicator for the workforce size will be based solely on the number of core and temporary employees. This change is in line with a reorganisation of internal management, which focuses on these employee groups. Employee groups such as apprentices, students gaining work experience and doctoral students will not be included in this key performance indicator in future, as they primarily serve to promote the training of young people and to secure the next generation of employees. Based on the new reporting methodology, the workforce comprised 126,016 employees at 31 December 2019.