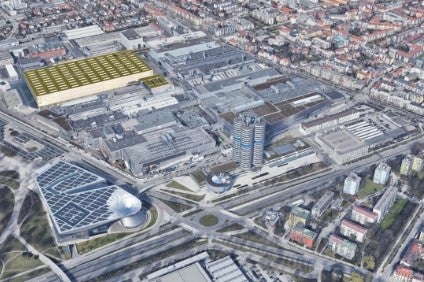 BMW Group said it was speeding up the shift towards electromobility and strengthening its global network for production of electrified vehicles.
The company is spending EUR400m on a new vehicle assembly hall at its main plant in Munich and concentrating European production of internal combustion engines at Steyr (Austria) and Hams Hall (England) locations.
"We are systematically implementing our electrification strategy. By the end of 2022, each of our German plants will be producing at least one fully electric vehicle," said production chief Milan Nedeljkovic.

BMW claims one of the automotive industry's most flexible production systems worldwide.
"We are capable of producing both vehicles with combustion engines and electric drive trains on a single line and responding flexibly to customer requests," said Nedeljkovic.
Nedeljkovic has been in charge of the production division for just over a year.
"During the COVID-19 crisis, we have proved that we can respond swiftly and effectively to even highly volatile market developments and, at the same time, permanently improve our cost structure," he said. "The progress made this year will reduce our fixed costs by about EUR500m by the end of the coming year."
Munich development
Following the expansion of the body shop and construction of a new resource-efficient paint shop between 2016 and 2018, the company will be spending around EUR400m on a new vehicle assembly factory between now and 2026.
"We are continually developing Plant Munich towards electromobility and creating efficient and competitive production structures for this purpose," said Nedeljkovic. "This decision signals our strong commitment to the Munich location."

The future assembly and its production processes will be designed for a new cluster architecture geared towards electric drive trains.
Said Nedeljkovic: "This architecture will be in use from the middle of the decade. It will ramp up for the first time at our future plant in Debrecen, Hungary, before being rolled out across our global production network in stages."

The new assembly facility in Munich will be built on the site currently used for engine production. Four, six, eight and 12 cylinder ICEs currently produced there will now be made at Steyr in Austria and Hams Hall in the UK.
"Restructuring our engine production network is a strategic move geared towards the future. We are also boosting our efficiency and optimising our capacity utilisation," said Nedeljkovic.

Engine production will be relocated from Munich in stages by 2024 at the latest.
Engine making employees will go on to work in different planning and production areas at the Munich location or other sites in Bavaria.
At its Competence Centre for E-Drive Production in Dingolfing alone, the company will increase employee numbers from 1,000 currently to up to 2,000.
BMW said the realignment of its production network was based on three priorities: transformation towards electromobility and digitalisation; efficiency of processes and structures; and sustainability in production and logistics.
The expansion of electromobility in the production network continues.
The Chinese plant in Dadong began producing the BMW iX3 this year.
"By the end of 2022, all German plants will have at least one fully electric vehicle in their programme," said Nedeljkovic.
From next year, the i4 and iX will come off production lines in Munich and Dingolfing respectively. Fully electric variants of the new 7 Series and the future 5 Series are also ready to go in Dingolfing. Regensburg will also start manufacturing the new X1 in 2022 which will be available both with a combustion engine and a fully electric drive train.
From 2023, Leipzig, which has built the i3 electric car since 2013, will produce the successor to the Mini Countryman (currently outsourced to NedCar in the Netherlands) in combustion engine and fully electric variants.

BMW Group is also expanding its capacity for electric drivetrains. The company is investing in production equipment for highly integrated e-drives and high-voltage batteries at the Competence Centre for E-Drive Production in Dingolfing. Leipzig and Regensburg are also currently setting up equipment for production of battery modules and high voltage batteries from 2021. In parallel, the company is also increasing production capacity for e-drive housings at Steyr.
"Allocating capacity in this way places a deliberate emphasis on the flexibility of our plants and makes them more efficient and more competitive. Long-term agreements with employee representatives also play an important part in this," said Nedeljkovic.

Sustainability
The BMW Group claims to have halved resource consumption and CO2 emissions since 2006 – which is much more than other European manufacturers. The amount of CO2 generated per vehicle will be reduced by another 40% from 2019 levels by 2025 and 80% by 2030.
"Sustainability is a fundamental aspect of modern production," said Nedeljkovic. "By the end of this year, our plants worldwide will obtain their electricity exclusively from renewable energy sources." To do so they will take advantage of the best options at each location – solar energy in Oxford, Mexico and China, biogas in South Africa, wind power in Leipzig.

In addition to using renewable energies, water, solvent, gas and electricity consumption will be further reduced in parallel.