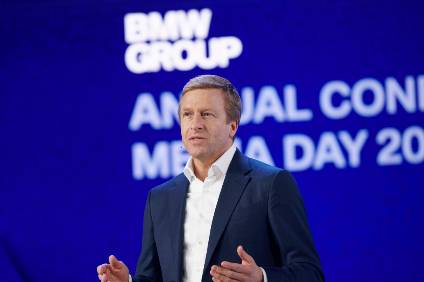 BMW has said it is determined to remain on a course of recovery in 2021 and has set itself ambitious targets, including significant growth in group profit before tax.
Speaking at the company's annual conference, BMW chairman and CEO Oliver Zipse said: "The BMW Group has ambitious plans for 2021. We have started the new year with strong momentum and are aiming to return to pre-crisis levels as swiftly as possible – and go even further. We have a clear roadmap for making the transformation of our industry a real competitive advantage for BMW in the coming years: uncompromisingly electric, digital and circular."
There was a heavy emphasis on technology plans – and especially electrification. The company said that by 2030 it expects fully electric vehicles to account for at least 50 percent of global deliveries – with all model series to include a fully electric option. BMW said the number of fully electric vehicles the BMW Group delivers is expected to continue growing by an average of over 20 percent annually between 2025 and 2030.
The MINI brand is to go all-electric and described by BMW as an urban brand that 'is absolutely ideal for electric mobility'. It will therefore be introducing its very last new combustion engine model as early as 2025 and launch only fully electric models from that point onwards. By 2027, fully electric vehicles will account for at least 50 percent of all MINI deliveries to customers. By the early 2030s, the entire MINI range will be fully electric, according to BMW plans.
BMW also used the occasion to show the fully-electric i4 for the first time, which goes on sale later this year.
BMW plans for fully electric models to cover around 90 percent of current market segments by 2023 and said the a combination of smart vehicle architectures and a highly flexible production network will enable the BMW Group to have around a dozen fully electric models on roads worldwide by 2023.
There will also be fully electric products from the luxury Rolls-Royce brand, though no timescale is set for that.
Strong second half 2020 'provides tailwind'
BMW said its profitable performance in the second half of the financial year 2020 provided a good tailwind going into 2021. Despite the global pandemic, BMW recorded a pre-tax profit for the final six months of the year amounting to €4,724 million, 9.8% up on the previous year. In the second half of the year, it delivered over 1.36 million units to customers, significantly more than in the corresponding period one year earlier.
With the exception of the second quarter, the BMW Group reported improved pre-tax earnings for the remaining three quarters of 2020 compared to one year earlier. Profit before tax for the fourth quarter increased to € 2,260 million (2019: € 2,055 million; +10.0%). The pre-tax return on sales (EBT margin) improved to 7.7% (2019: 7.0%).
However, the BMW Group's business performance for the financial year 2020 clearly reflects the impact of the corona pandemic. Due to worldwide lockdowns lasting several weeks, vehicle deliveries to customers fell by 8.4% to 2,325,179 units. Defying this trend, BMW said, growth was particularly strong in the upper luxury segment, with deliveries up by 12.4% to more than 115,000 vehicles, mainly reflecting the performance of the 7 Series and the 8 Series as well as that of the BMW X7 in its first full year on the market. Indeed, sales in this profitable segment have soared by over 70% since 2018, BMW notes.
2020 BMW Group revenues decreased moderately to € 98,990 million (2019: € 104,210 million; -5.0%). Profit before financial result decreased significantly to € 4,830 million (2019: € 7,411 million; -34.8%). Profit before tax fell to € 5,222 million (2019: € 7,118 million; -26.6%) partly reflecting the negative impact of unfavourable currency factors. The BMW Group's pre-tax margin came in at 5.3% (2019: 6.8%).