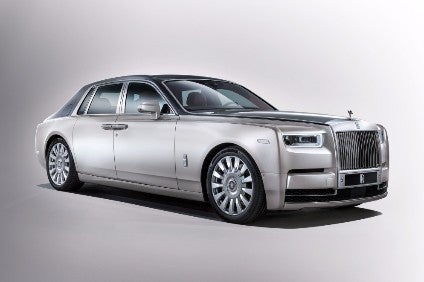 BMW's Rolls-Royce has redesigned its flagship Phantom limousine for the first time since the first 'German' version was launched in 2003.
This is the eighth generation and second under BMW ownership.
"Not satisfied with simply launching a motor car that is a wholly contemporary design interpretation of Phantom DNA and a technological tour de force, Rolls-Royce has revolutionised the luxury car industry itself by shifting away from the status quo of shared platforms to an entirely new luxury business model," the automaker said in a statement.
Platform
Rolls-Royce said contrary to how other so-called luxury manufacturers are trying to realise economies of scale by sharing platforms with mass market manufacturers, it thinks the future of true luxury lies in true small volume manufacture of a dedicated 'architecture of luxury'.
"This realisation was a moment of clarity about the destiny of Rolls-Royce," said CEO Torsten Muller-Otvos. "Every one of our customers – each a connoisseur of luxury in the extreme – were asking for something more individual to them, not less. We were adamant that that was what they should have."
Engineering chief Philip Koehn said the new architecture would underpin every future model including the already announced SUV (project Cullinan), next Ghost, Wraith and Dawn, plus future coachbuilt projects.
The outgoing Phantom borrowed many parts from the early 2000s generation of BMW brand 7-series flagship, from which the RR01's platform was adapted. The new Phantom will introduce Rolls-Royce's new aluminium spaceframe architecture.
"The Phantom VII's spaceframe architecture was a good starting point and inspiration, but we wanted to do much more," said design head Giles Taylor. "The [new architecture] gives me the canvas to protect the lineage and brand integrity without compromise. I have the framework to create a future range of true Rolls-Royces. In essence, this is one big coachbuild project."
"Our approach has been to forge long-term relationships with smaller suppliers run by families that will focus on us, giving us much more attention and therefore results that live within a quality expectation far beyond any other automotive concern," Rolls-Royce said. "For a brand to operate in such a manner within a larger automotive group is unheard of and truly revolutionary."
It claims its decision to ditch monocoque construction as used by mass manufacturers and some mass luxury brands "is a truly revolutionary approach for the motor industry".
Most 'luxury' manufacturers are limited to sharing individual platforms in a specific sector with mass brands introducing what R-R thinks is "unacceptable compromise"
It therefore will be uncompromising in only using its own architecture for all models, whatever the sector.
The platform has been designed and engineered to be scalable to the size and weight requirements of different future models, including those with different propulsion (R-R has previously shown an all electric prototype), traction and control systems, "thus underpinning the long-term future product roadmap".
The new spaceframe architecture is about 30% more rigid than Phantom VII's. This facilitates lightness, increased stiffness, efficient production of standard and extended wheelbase bodies and improved exterior surface design.
Rolls-Royce claims "best-in-class" ride, handling and NVH for the high comfort chassis with air suspension and chassis control systems, delivering peerless 'effortless' ride and handling and optimal vibration comfort performance.
A new double-wishbone front axle and five-link rear axle deliver control over lateral roll and shear forces plus agility and stability, as does the addition of four-wheel steering.
The new platform improves ride, helped by self-levelling air suspension. The so-called flagbearer – a tribute to men who were required by law to carry a red flag ahead of early cars in England – adds a stereo camera system integrated in the windscreen to 'see' the road ahead, adjusting suspension proactively, rather than reactively, up to 100km/h (62mph).
Silence
The new platform has 6mm double layer glazing all round, 130kg of sound insulation, the claimed largest ever cast aluminium joints in a body-in-white for better sound insulation, and use of high absorption materials.
Acoustic insulation from road noise has been helped by double skin alloy in the floor and bulkhead, claimed unique to the Phantom VIII. Further noise insulation by inserting dense foam and felt layers are between these skins to provide additional sound insulation.
High absorption layers within the headliner, in the doors and in the boot cavity have further aided insulation and reduced reverberation. An (unnamed] supplier invented 'Silent-Seal' tyres – which feature a foam layer inside the tyre to wipe out tyre cavity noise and reduce overall tyre noise by 9db.
The first BMW Phantom used a variant of BMW's 80s-designed V12 petrol engine but Phantom VIII has completely new engine, still a 6.75-litre V12, engineered for the new car.
The previous motor was normally aspirated but the new one has two turbochargers that contribute to a low-end torque output of 900Nm at just 1,700rpm with peak power 563bhp (420kW). 'Satellite Aided Transmission (SAT)' includes a ZF eight-speed automatic gearbox.
Tech
R-R said the new Phantom's electronic architecture is the largest ever component produced by the BMW Group. This central nervous system connects and controls all the various advanced intelligence systems which include: Alertness Assistant, a four-camera system with Panoramic View, all-round visibility including helicopter view, Night Vision and Vision Assist, Active Cruise Control, collision warning, pedestrian warning, cross-traffic warning, lane departure and lane change warning, a claimed industry leading 7×3 high-resolution head-up display, WiFi hotspot, and navigation and entertainment systems.
Style
A complete restyle has raised the traditional R-R grille, positioning the also traditional Spirit of Ecstasy bonnet mascot (which retracts if someone tries to grab it) a half inch higher. The grille itself is for the first time integrated into the surrounding bodywork.
"The side view design theme of Phantom recalls the elegance of Phantom V. By separating the front wing line from the waist line, we introduce a sense of movement and this line circles back under the car inferring a lighter, fleetness of foot," said design chief Taylor.
Traditional door handles remain. The automaker reckons "the substance of a Rolls-Royce door handle is key to the owners every day physical experience of their motor car, and the feel of this beautiful material under the hand is highly satisfying to them".
Wheels are a massive 22 inches.
Rear hinged rear doors – a Phantom tradition – are power assisted and close with a touch on the sensor on the handle.
The rear interior is as much traditional British 'wood and leather' as you'd expect and includes picnic tables and what only R-R would call 'rear theatre monitors' (infotainment screens to we plebs) which are electrically deployed and retracted. Rear seat controls have been moved from the centre armrest to "a more intuitive position for the user".
Phantom buyers – referred to a patrons who commission a car – will choose seating to suit. The range includes include the "more intimate lounge seat", individual seats with occasional armrest, individual seats with fixed centre console and a newly introduced sleeping seat.
The new fixed rear centre console now includes a drinks cabinet with whisky glasses and decanter, champagne flutes and coolbox.
Much as before, most switchgear is metal including – again traditional – eyeball vents and organ stop controllers, seat and light switches, violin key window switches. Glass or leather is also used as finish.
As well as seats, heated items now include the front door armrests, front centre console lid, lower C-Pillar, rear side armrests with all individual seats, and rear centre armrest.
Rolls-Royce now calls the dashboard and instrument panel area 'The Gallery'. It's all enclosed in toughened glass that runs the full width of the dash area. Instrument digital dials are framed with chrome. At customer request, "a more futuristic approach to clearer instruments for the driver" means 12.3 inch TFT colour displays with LED backlighting.
The analogue clock – yet another tradition, the loudest sound you can hear in a Rolls-Royce, etc, remains and the central information screen can retract behind the centre stack. The standard clock features a dark face surrounded by black leather but a new 'bespoke clock' has a more intricate design, including a lighter backlit face with crystal effect details and counterweighted hands, and is finished to match materials selected for the gallery.
Art in the car
"Art is at the heart of the conception of the new Phantom's interior," added Taylor. "As an interest, we know that a huge number of our clients are patrons of art and indeed have their own private collections. Art is a binding factor for many of them."
Hence, he said he's reinterpreted the dashboard "from being a dead expanse into a riveting focal point".
"I wanted to take a motoring constant that has existed for a century, but served little purpose but to hide airbags and componentry, and give it another purpose, space to breathe."
Space on the upper dashboard can be used for unique works of art allowing more personalisation of the car.
"In the 18th century, miniatures were highly fashionable and valuable items of art that allowed their owners to carry images of their loved one with them wherever they travelled. I really loved that idea of taking your art with you, when travelling, and so I acted on it," said Taylor. "Now, our clients will be able to do the same."
Customers will be able to choose a favoured artist or designer to work with Rolls-Royce to create an individual work of art that spans the width of the dashboard.