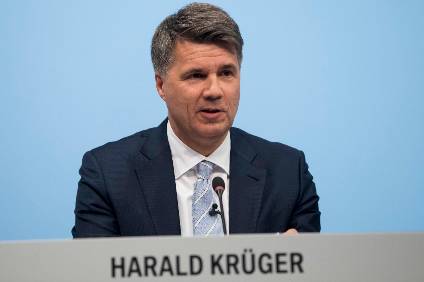 BMW has said profits will be lower in 2019 as the company faces rising costs and market uncertainty.
The company now expects an EBIT margin of 6 to 8% on its automotive business in 2019 (which compares with an EBIT margin of 8-10% which is BMW's ambition "in a stable business environment".
However, it said costs are being driven up in complying with stricter CO2 legislation and higher manufacturing costs. It said that unfavourable rising manufacturing costs are likely to have a dampening effect on earnings. Moreover, unfavourable currency factors and higher raw materials prices are expected by the company to have a "medium to high three-digit million negative impact". At the same time, the ongoing issue of international trade conflicts remains a source of uncertainty, BMW said.
Group earnings before tax are expected to be significantly below 2018 levels, the company said. It has announced a cost savings and efficiency plan to offset higher R&D costs. By the end of 2022, it expects to leverage potential efficiencies totalling more than EUR12bn. Many of the measures aimed at reducing product complexity will then come to full fruition in the following years, BMW maintains.
"The high level of volatility makes it difficult to provide a clear forecast," BMW said.
"Our industry is witnessing rapid transformation. In this environment, a sustained high level of profitability is crucial if we are to continue driving change," said Nicolas Peter, Member of the Board of Management of BMW AG, Finance. "In view of the numerous additional factors negatively impacting earnings, we began to introduce countermeasures at an early stage and have taken a number of far-reaching decisions. Discipline and a clear focus on rigorous implementation are essential as we aim to emerge from these challenging times stronger than ever."
At EUR5,029m, BMW Group capital expenditure in 2018 was 7.3% above the previous year's high level (EUR4,688m). The Capex ratio rose to 5.2% (2017: 4.8%). Investments included work connected with the introduction of new models in the Spartanburg, Dingolfing and Munich plants and the building of the group's plant in Mexico. As planned, research and development expenses in 2018 were significantly higher than in the previous year and totalled EUR6,890m (2017: EUR6,108m; +12.8%). R&D expenditure for the year was therefore equivalent to 7.1% of group revenues (2017: 6.2%). In addition to ramping up the roll-out of new models, BMW said the focus is also on future-oriented topics such as autonomous driving and the systematic expansion of electric mobility – which are costly.
"Our first highly automated vehicle will become available in 2021 and we are already now paving the way for the development of the next generation of groundbreaking technology. In the field of mobility services, we are joining forces with Daimler AG to create even greater momentum," said Harald Krüger, Chairman of the Board of Management of BMW AG, in Munich on Wednesday. "We need to work systematically on our operational excellence in order to leverage these strategic advances and ensure our ability to use our own underlying strength to help shape the sector's transformation going forward," he added.
BMW said that in 2018, increased statutory and non-statutory warranty measures resulted in significantly higher additions to provisions. It also said that ongoing international trade conflicts also 'served to exacerbate the market situation and feed uncertainty'. These circumstances resulted in 'greater-than-expected distortions in demand and unexpected pressure on pricing in several markets'.