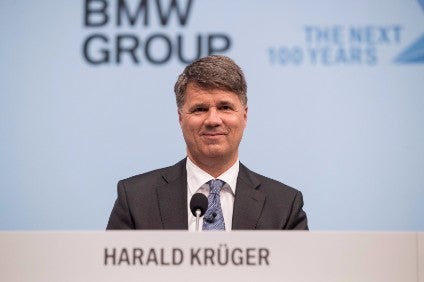 After booking record revenues and earnings for the seventh consecutive year in the automaker's centenary year 2016 (nonetheless disappointing some analysts), BMW Group management board chairman Harald Kruger is again expecting records for 2017.
"Once again, we are targeting record sales volume, revenues and earnings in 2017" – BMW chairman Harald Kruger
"Once again, we are targeting record sales volume, revenues and earnings in 2017," Kruger told the automaker's annual accounts press conference here in Munich today.
The group is forecasting a "slight increase" in automotive segment deliveries this year, "assuming conditions remain stable", with corresponding revenue growth, while group pretax profit is also expected to improve "slightly" and "provided economic and political conditions do not change significantly".
New product remains key to achieving BMW's ambitions. Said Kruger: "We intend to launch more than 40 new and revised models of our premium brands on the market during 2017 and 2018. The new product offensive began successfully with the launch of the new 5 Series in February, raising the bar in the business sedan segment."
"Drawing on our underlying operational strength, we are aiming to achieve an EBIT margin of between 8% and 10% [8.3% in Q4 2016] in the automotive segment," said finance chief Nicolas Peter, a seasoned 26-year BMW veteran who took over the role on 1 January. "Since 2011, it has consistently exceeded the 10% mark. EBIT margin for 2016 stood at 10.3%.
"We will continue to generate sufficient resources to finance the high up front expenditure to shape tomorrow's mobility."
He added the group was in "an extremely strong financial position" with cash of EUR13,167m on hand at 31 December 2016 versus EUR11,383m a year previously. Cash flow in the automotive segment was EUR5,792m in 2016 versus EUR5,404m in 2015.
Peter said the Chinese joint venture operations had contributed EUR507m to 2016 earnings despite spending on the new engine plant and new models. Currency effects were responsible for the "slight decrease" year on year.
"Overall, we expect the positive business development to continue in 2017."