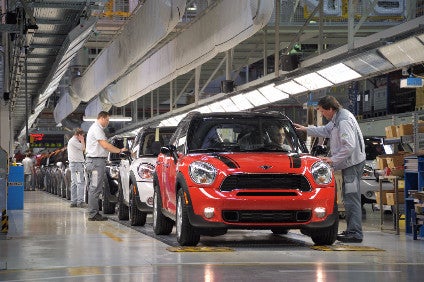 Magna International said it would manufacture the new 5 Series sedan for the BMW Group at its contract vehicle assembly facility in Graz, Austria.
Production, which is expected to begin in 2017, will be split with BMW's Dingolfing plant in Germany.
"We are proud to continue our longstanding partnership with the BMW Group," said Günther Apfalter, president of Magna Europe and Magna Steyr.
"The new collaboration emphasises our customer's continued trust in our contract manufacturing capability and our unmatched leadership position in this area."
Magna Steyr currently builds Paceman and Countryman models for BMW's Mini unit and just-auto expects it to also build a planned joint venture sports car, replacing BMW's Z4, for the German automaker and Toyota from 2018. The new 5 will also be assembled in Kaliningrad, Russia; Padang Meha, Kulim, Malaysia; Jakarta, Indonesia; Rayong, Thailand; at Brilliance BMW in Da Dong, Shenyang, China; and in Chennai, Tamil Nadu, India. Mexican build is also a possibility. The Austrian factory has also long contract-assembled for BMW's rival Daimler's Mercedes-Benz.
"In the last 15 years of our collaboration, Magna has proven to be a trusted partner with expertise in world-class production capabilities. Therefore, Magna is exactly the right choice to share production of our new 5 Series," said Oliver Zipse, BMW's production chief.
The successful partnership between Magna and BMW began in 2001. Magna started manufacturing the X3 SUV in 2003 followed by the Countryman in 2010 and the Paceman in 2012. The 5 Series will succeed the two Mini models.
With new business awards from BMW and JLR starting production in 2017, and a contract extension on the Mercedes-Benz G-Class, Magna's Graz facility is expected to reach approximately 200,000 vehicles per year by 2018.