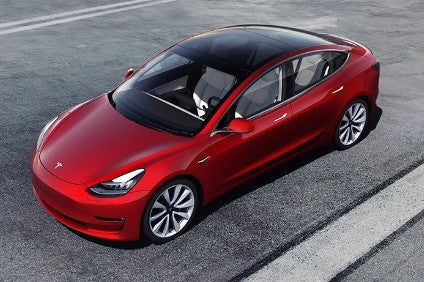 BEVs and PHEVs secured market share records ahead of diesels and Tesla outsold Dacia, Citroen, Fiat, and Nissan across a basket of European markets in March.
According to JATO Dynamics data for 27 markets, volume was down 19% year on year with 1,116,419 new passenger cars registered. While registrations increased 33% compared to March 2020, the market was not back at pre-pandemic levels, falling short of March 2019 by 37%.
Due to ongoing uncertainty around the availability of new cars and the impact of the invasion in Ukraine, consumers in Europe were not buying cars at the previous rate.
Felipe Munoz, global analyst, said: "Although Ukraine is not a large market for European car exports, with a small market relative to its population, it remains an important source of vehicle parts for major European OEMs".
Last year, Ukraine took 103,300 units, making it the 20th largest market in Europe, including Russia.
First quarter 2022 sales were worse than in 2020 when Europe was hit by the pandemic, as volume fell 10% to 2.73 million units – the lowest since 1985.
However, the popularity of low emissions vehicles continued to increase. Plug-in hybrid and pure electric cars (PHEV and BEV) outperformed diesels with 244,801 new registrations, compared to 202,113. The electrified models' volume increased 10% while diesels plunged 39%.
Munoz said: "We continue to see more and more new EVs enter the market. And with the support of good deals, incentives, and shorter waiting times compared with ICE vehicles, it's become easier for consumers to jump on the EV boom."
The shift to low emissions vehicles was particularly prevalent in countries such as Switzerland (which had a 28% EV market share vs 14% diesel market share), the UK (23% vs 10%), France (21% vs 16%) and Belgium (24% vs 19%), in addition to the well established trends seen in Norway, Sweden, Netherlands and Denmark.
BEVs accounted for almost 62% of all low emissions vehicle registrations in March with sales up 46%. In contrast, plug-in hybrids declined 22% to 93,100 units registered.
Munoz: "Because these vehicles rely on an ICE powertrain, PHEVs don't benefit from the government incentives granted to BEVs. At the same time, developing and manufacturing batteries is a costly process, therefore without incentives, these already expensive vehicles are understandably less appealing to consumers."
Tesla top again
Tesla's Model 3 was again Europe's best selling new car last month with 23,013 new registrations, down 3% on March 2021. This drop was relatively insignificant compared to those recorded by other models such as the Peugeot 208 (-17%), Volkswagen Golf (-36%), Toyota Yaris (-31%) and Opel Corsa (-36%).
The negative growth for the Model 3 was partly explained by the increasing popularity of the Model Y, its SUV twin which secured a record third place. Thanks to these two models, last month Tesla was able to outsell mainstream brands like Dacia, Citroen, Fiat, and Nissan.
For Q1 2022, Tesla ranked 18th by brand, closing the gap on Seat and moving ahead of Nissan. The EV maker was also among the top 10 most registered brands in nine European countries.
The latest generation of the Dacia Sandero continued to be a favourite with European buyers while Kia achieved strong results after introducing the redesigned Sportage. Toyota registered almost 11,400 units of the Yaris Cross, becoming the sixth best-selling B-SUV in Europe. The Opel/Vauxhall Mokka followed closely, doubling its volume compared with March 2021.
Cupra continued to gain market share thanks to the Formentor, Europe's fourth most popular PHEV during the month. The Arkana was the third most registered model in the Renault line up, behind the Captur and Clio, while the Kia Xceed saw volume increase 56%. Volkswagen registered more than 5,500 units of the Taigo, and MG almost doubled registrations of the ZS to 5,400 units; the HS was up by 188% to 4,229 units. The latest BMW 4-Series increased registrations by 72% to 5,181 units.
Among the fully electric models, the Fiat 500 took third place in the BEV ranking, making up 41% of the model's total volume. Dacia registered almost 4,000 units of the Spring, 53% of which were in France. Hyundai and Kia registered 3,243 and 2,941 units of the Ioniq 5 and EV6, respectively. Polestar 2 volume jumped from 1,343 units in March 2021 to 3,003 units last month.