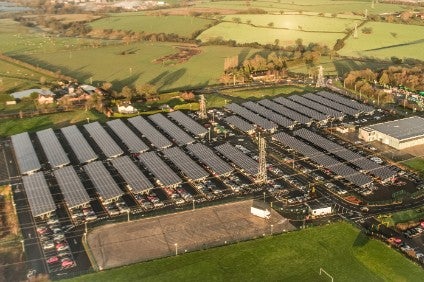 Volkswagen's Bentley Motors said it had installed the UK's largest solar car port at its factory in Crewe, England.
Now all electricity used to manufacture cars is solar or "certified green".
The installation of 10,000 solar panels, with capacity of 2.7MW, covers 1,378 car parking spaces and an area of 16,426 square metres, about the size of two football pitches.
The automaker reckons the system could reduce the plant's CO2 output by 3,300 tonnes a year.
Manufacturing chief Peter Bosch said: "It's important to look ahead and prepare the business for the next 100 years by investing significantly in our products, our people and our site infrastructure. This includes new initiatives that reinforce our commitment to the environment."
The solar car port takes on-site solar panel energy capacity to 7.7MW. This includes the 2013 roof top installation of 20,815 panels with the total number of individual solar panels on site now 30,815.
The car port was installed by FlexiSolar backed by Innovate UK.