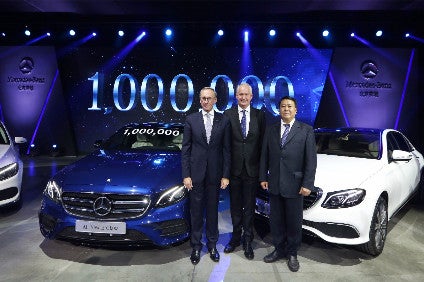 The millionth vehicle has been built at Beijing Benz Automotive Co (BBAC).
This joint venture between Daimler and BAIC has been in place for over 10 years and undertook tremendous development over the last decade.
"This occasion is a milestone for our successful partnership with BAIC and another solid proof of our 'Made in China, for China' commitment," said Hubertus Troska, responsible for Daimler Greater China. "BBAC is key to the long-term and sustainable development of the Mercedes-Benz brand in China, and we will continue developing it into one of the most pioneering manufacturing sites in Daimler's global production network."
In 2015, China became the biggest market for Mercedes-Benz cars.
"The offline of the one millionth vehicle is both a recognition and incentive for us. This production milestone shows how much experience and expertise our local specialists have now built up. The fact that our vehicles are received so favourably by Chinese customers is the best praise for our colleagues at the plant," said Peter Schabert, president and CEO of BBAC.
The milestone vehicle is an E-Class. This model was the first Mercedes-Benz vehicle to be manufactured locally and the first long wheelbase version – developed specially for China – started production in 2010. In June 2016, third generation E-Class production started. China is now the biggest market for the model.