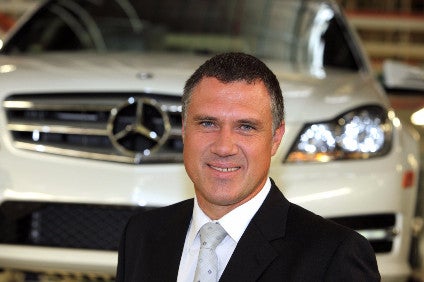 Arno van der Merwe (44) takes over as president and CEO of BBAC in April 2017, replacing Peter Schabert (62), who is retiring after 31 years at Daimler. He has been the president and CEO of BBAC since August 2015.
"We [reached] one of our most significant milestones under the lead of Schabert: last year China became the largest market for Mercedes-Benz Cars. He successfully and continuously increased the capacity, productivity and flexibility of our plant in Beijing. We are deeply grateful for his commitment in Germany and in China," said Hubertus Troska, head of Daimler Greater China.
Van der Merwe is currently CEO and executive director manufacturing at Mercedes-Benz South Africa. Prior to March 2014 he ran the local manufacturing plant from 2011. Projects the East London factory launched under his management include the production of C-Class plug-in hybrids – the plant is one of three key sources for the model. Van der Merwe joined Daimler in 1996.
"[Schabert] brings valuable inspiration for the joint venture in China thanks to his experience as CEO and site manager in South Africa. Colleagues in Beijing will benefit from his expertise and know-how, in particular at a stage when we are further increasing our capacities and flexibility," said Markus Schäfer, Mercedes-Benz Cars' head of production and supply chain.
Beijing Benz Automotive has been producing Mercedes-Benz passenger cars since 2005 and engines since 2013. In 2015 over two thirds of Mercedes-Benz vehicles in China were produced locally – E-Class, C-Class, GLA, and GLC. Overall production at BBAC has now exceeded 1,000,000 units and, in terms of area, it is the largest Mercedes passenger cars factory.
Four- and six-cylinder engines manufactured by BBAC are used in cars produced by BBAC and also in vans made by Fujian Benz Automotive, another local Daimler joint venture. Approximately 250,000 engines were manufactured in 2015.
Earlier this year, Daimler and BAIC signed a strategic framework agreement on the joint investment of RMB4bn (c. EUR500m) to further expand the engine plant.