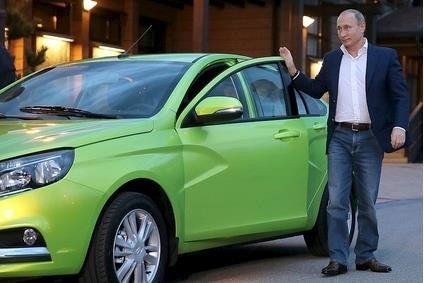 AvtoVAZ is remaining bullish insisting its sales falls are bucking the overall trend of fiercely dropping numbers as Russia continues to endure rouble pressure and international economic sanctions.
Part of the Russian automaker's optimism is centred on its two latest models – the new Lada Vesta which has already launched – and the X-Ray slated for release next month – while a high localisation rate is equally feeding through into competitive efficiency.
"We are very successful with our new generation models, Vesta and X-Ray," an AvtoVAZ spokesman told just-auto from Moscow. "We started Vesta sales last November and we are starting X-Ray on 15 February.
"We have our product strategy to be as much on the market as possible, to utilise all possible means to activate our sales, as the market will be very, very tough.
"Our loss was not as much as the whole market. We declined by 30% and the market declined by 36%."
Last week, Russia's Association of European Businesses (AEB) posted one of its most gloomy reports yet, recording a calamitous 46% drop in passenger car and LCV sales in December, with an overall plunge of 36% for last year.
Sales of new passenger cars and LCVs in Russia decreased by 45.7% in December or by 123,682 sold units, and amounted to 146,963 vehicles, according to the AEB Automobile Manufacturers Committee (AEB AMC).
"The results are [bad] because of the high business of last year," added the AvtoVAZ spokesman. "I remember December, 2014, it was the first time the euro reached RUB100, so people were spending money as fast as possible.
"We are still number one in the segment of cheap sedans and feeling quite positive with our up-coming new generation models."
Some observers in the Russian market take a view overseas prices are too low, with claims costs of new cars are not being increased, but domestic consumers are undoubtedly feeling the pinch as international disapproval of The Kremlin's actions in Crimea and supposed influence in Eastern Ukraine continues unabated.
"Everybody is tired of the news – this is the situation," added the AvtoVAZ spokesman. "People are having less and less extra money so they really cut their expenses last year. Everybody is used to living [with] this exchange rate."
Despite the economic challenges in Russia, one clear advantage AvtoVAZ has is its high component localisation, which provides a real boost to the automaker to compete with overseas brands.
The manufacturer's new Vesta for example is 71% localised, while the X-Ray comes in at a hefty 51%, a situation recently endorsed by President Vladimir Putin, who very publicly drove the former model with AvtoVAZ CEO, Bo Andersson sat next to him.
"It is a matter of the difference in exchange rates, for the national currency and for foreign currencies compared to the rouble," said Putin on exiting the Vesta with Andersson. "These are absolute competitive advantages our carmakers must certainly use, not just to conquer their own market, but to advance in the foreign markets as well.
"Localisation is at 70%: some of the parts are still supplied from abroad, but for the most part, it's not a bad thing.
"Right now, everything in the global car industry is based on cooperation and the Lada is following the same path. But 70% of localisation in Russia is a very good indicator."