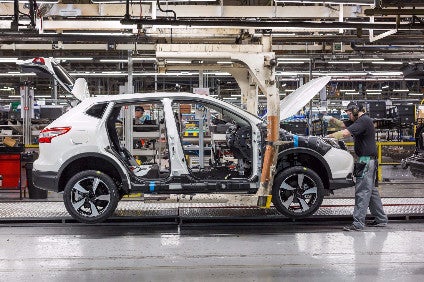 The UK's Automotive Council – a body that exists to strengthen co-operation between UK government and the UK automotive sector and set strategic direction – believes that the UK auto industry should be aiming to raise the UK content in UK-produced cars from the current level of around 41% average to 60%.
Nigel Stein, GKN CEO and co-chairman of the Automotive Council, told an SMMT Open Forum Conference this week that potentially 80% of the content of a car built in the UK could be sourced in the UK.
"Many of our peer countries, such as France and Germany, sustain higher content levels [than UK] so 60% should be at least our medium-term target for UK content," he said. "A range of new vehicle models being launched are moving up towards these content levels. This is an important area for more progress."
It is estimated that the average UK-built car currently has 41% UK local content, up from 36% in 2011. However, German content in Germany-built cars is estimated to average around 64%.
Stein also pointed out that there are 78,000 people employed in the UK's automotive supply chain. "The future of the UK's automotive industry is only secure when the supply chain is deep. True strength comes when assembly plants are part of a successful automotive eco-system. So while we should be proud of our achievements to date, there is clearly more work to be done."
He also told delegates that the Automotive Council continues to enjoy support from the UK government and that its work has carried on seamlessly even after changes of government since its formation in 2009. He cited government financial support for new technologies and the 'Advanced Propulsion Centre' as an example of its success. "I believe it is this consistent support for our sector that has enabled us to move ahead strongly since the last recession. Consistency is vital for confidence," he said. "And confidence is vital to investment."
See also: Why raising UK local content won't be easy – Comment