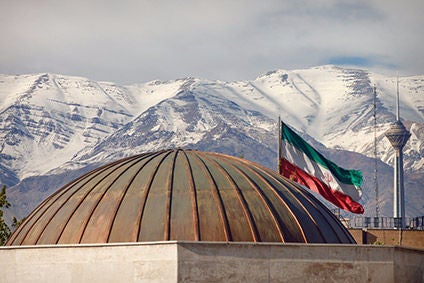 European automakers are urgently attempting to understand the implications of President Donald Trump's decision to withdraw from the nuclear deal with Iran, as the fallout from Washington's move starts to gather pace.
The leaders of the UK, France and Germany have nailed their colours firmly to the mast of continuing the present arrangement but a good deal of confusion and uncertainty has now been injected into manufacturers' operations in Iran, into which they have poured huge resource following the lifting of sanctions against Tehran in 2015.
PSA for example, insists its activities are "fully compliant" with international regulations, but the US decision to pull out of the Joint Comprehensive Plan of Action (JCPOA) has set the cat among the pigeons with a variety of industries, particularly automotive and aerospace, which are now scrambling to establish if they will be sanctioned should they continue to do business with Tehran.
Europe's main capitals of London, Berlin and Paris are urging Iran to "show restraint" in its reaction to the US decision as tensions ratchet up between Tehran and Jerusalem, while also insisting the deal "made the world a safer place."
PSA declined to elaborate on whether it had spoken to the French government or its partners in Iran, but confined itself to a statement sent to just-auto from Paris.
"Like all economic actors, we follow the evolution of this topic including the official position of the European Union on this issue," noted PSA.
"Groupe PSA recalls its automotive activities are fully compliant with international regulations."
The key issue is what impact any American retaliatory sanctions could have on Western companies, with PSA, Renault and many French and German auto suppliers beating a significant collective door to Iran during the past two years following Iran's emergence from the economic cold in 2015.
French supplier body, FIEV and its Scandinavian equivalent, FKG, have both organised major visits with large delegations to Iran in recent years, sensing the huge opportunity in a market where sanctions had significantly dampened demand for and access to, Western goods. Now, their headquarters in Paris and Gothenburg will be urgently trying to make sense of what the new landscape might herald.
The JCPOA was agreed between China, France, Germany, Russia, the UK and the US, with the European Union) and Iran in a bid to limit Tehran's nuclear programme in exchange for sanctions relief, including on trade. The EU exported more than EUR8.2bn (US$9.7bn) of goods to Iran in 2016.
A joint statement from British Prime Minister, Theresa May, French President Emmanuel Macron and German Chancellor, Angela Merkel, expressed "regret and concern" following Trump's decision to unilaterally pull America from the JCPoA, insisting they were committed to its continuity.
"Together, we emphasise our continuing commitment to the JCPoA," noted the three leaders. "We urge all sides to remain committed to its full implementation and to act in a spirit of responsibility. The world is a safer place as a result.
"We, the E3, will remain parties to the JCPoA. We urge the US to ensure the structures of the JCPoA can remain intact and to avoid taking action which obstructs its full implementation by all other parties to the deal.
"We encourage Iran to show restraint in response to the decision by the US; Iran must continue to meet its own obligations under the deal, cooperating fully and in a timely manner with IAEA inspection requirements. The IAEA must be able to continue to carry out its long-term verification and monitoring programme without restriction or hindrance."
Of all Western countries, it is perhaps France which has the most to lose from punitive sanctions coming out of Washington. Both Renault and PSA have re-entered Iran with gusto, striking major deals with local partners and although they have little sales in the US, worries appear to be centering on any access to financial instruments in the future.
French Foreign Minister, Jean-Yves le Drian has now waded into the debate after President Macron phoned his Iranian counterpart, Hassan Rouhani, insisting Paris was determined to preserve the nuclear deal, but it equally expected Tehran to respect its own obligations.
"France invites Iran to open profound discussions on questions relating to regional stability," noted a statement from Le Drian's office. "The Foreign Minister recalled the willingness of the [French] Head of State to work collectively in a wider framework, including nuclear activity and Iran's ballistic programme as well as the solution to the crises in the Middle East.
"Monsieur Le Drian will continue his discussions with his German and British counterparts on these points. All three are determined to maintain European unity concerning Iran. They will collectively receive the Iranian Minister, who M. Le Drian invited to meet them next week."
Further details are expected later.