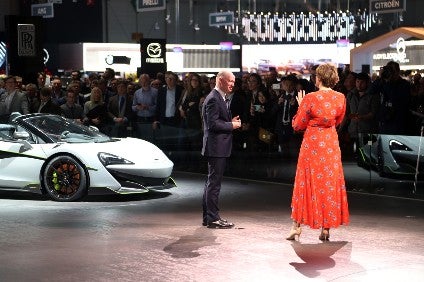 Automakers have been scrambling today (2 March) to salvage what they can from planned media presentations originally scheduled for Geneva's first press day tomorrow, replacing physical events with virtual hosting online.
Brands including Cadillac, Citroen, Ford, Jaguar, Lamborghini, Land Rover, Mitsubishi, Nissan, Opel, Peugeot, Subaru, Tata and Volvo Cars had already said they weren't coming for non-coronavirus related reasons.
Among those announcing online press conferences for models they would have launched to much fanfare in Switzerland were BMW, which had planned to show off an i4 'concept', and Toyota's premium brand Lexus, which substituted a digital press conference having been due to host the European launches of the UX 300e, the brand's its first battery electric vehicle, the LC 500 Convertible and the LF-30 electrified electric vehicle concept at Geneva.
It's worth noting that most manufacturers have either live streamed their show events, or made a digital presentation available online soon afterwards, for many years now.
Koenigsegg is pitching "an online event from our stand in Geneva", suggesting that any stand building activity prior to last Friday's show cancellation would not go entirely to waste. "We have a lot of exciting news, which will move the megacar segment in new and interesting directions. We can't wait to share it with you. The show must go on!," the automaker said.
It is also offering phone interviews with its CEO and founder.
The Volkswagen brand said it would online stream the launches of the Touareg R plug-in hybrid and latest Golf GTI.
Premium group brand Audi will broadcast the world unveiling of the A3 Sportback online. It will transmit a 10-minute programme "to give potential customers an exclusive look" and also promote e-tron S models.
Bentley Motors announced a digital press conference for the Mulliner Bacalar, said to be only the second two seat Bentley since 1930.
Daimler, well known for vast and elaborate European auto show stands, said it would "digitally present the highlights of its numerous premieres of this spring" with the scheduled "executive talk" based around the updated Mercedes E-Class moved to a studio in Stuttgart. That will also be the venue for a motorsports and sustainability talk with automaker, electrification and motorsports management.
Honda's presentation online will deliver information on its new e:Technology range of electrified and connected models while also launching – in Europe – the redesigned Jazz and Crosstarwith e:HEV hybrid powertrain.
The UK based McLaren Automotive CEO Mike Flewitt will head a press conference from the company's technology centre in Woking, Surrey, rather than Geneva, promising "a global reveal and details of next chapter in the LT story plus other product and business updates". Some journalists may actually make that one though attendance is "by agreement only".
In a statement, the Geneva show organisers said: "We regret this situation, but the health of all participants is our and our exhibitors' top priority. This is a case of force majeure and a tremendous loss for the manufacturers who have invested massively in their presence in Geneva. However, we are convinced that they will understand this decision."
A few days before the opening of the event, the construction of the stands was very nearly complete. A week ago, during the press conferences announcing the 2020 edition, there was nothing to suggest that such a measure was necessary, organisers insisted.
"The situation changed with the appearance of the first confirmed coronavirus diseases in Switzerland and the injunction of the federal council [banning gatherings of more than 1,000 people] on [Friday] 28 February. That event triggered the very late cancellation.
"In the meantime, the dismantling of the event will now have to be organised. The financial consequences for all those involved in the event are significant and will need to be assessed over the coming weeks. One thing is certain: tickets already purchased for the event will be refunded. The organisers will communicate about this as soon as possible, via their website."
The show organisers have produced a web page dedicated to planned virtual press conferences.
This video on YouTube gives some idea of the scale and cost of the cancellation – note the number of new brands which had high hopes of making their names known.
Geneva show cancelled as coronavirus spreads
What you would have seen at the now cancelled Geneva motor show