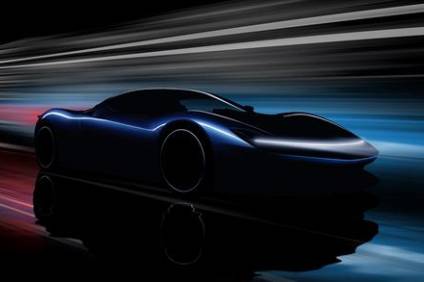 Automobili Pininfarina says it plans to invest 'in excess of EUR20m' in Pininfarina SpA design services to support plans for a range of 'beautiful and innovative luxury electric cars'.
The company has also released an image of the 'PF0 hypercar prototype'. It said the new cooperation with Pininfarina SpA will underpin the design, development and production of the PF0 luxury electric hypercar and the future range of Automobili Pininfarina cars.
Michael Perschke, CEO, Automobili Pininfarina, said: "It is a pleasure and a privilege to partner with the world's greatest car design house, Pininfarina SpA. This agreement brings us together and marks the beginning of two exciting chapters in our very different histories.
"For Automobili Pininfarina, it will form the cornerstone of our ambition to become the world's most admired luxury electric vehicle company. For Pininfarina SpA, it delivers Battista's dream of seeing a range of beautiful and highly desirable Pininfarina-branded cars on the roads."
Silvio Pietro Angori, CEO, Pininfarina SpA, said: "We are very pleased to add Automobili Pininfarina to the list of the many prestigious car makers for which Pininfarina SpA will be designing cars in the future. This agreement will also allow us to show our expertise in engineering and manufacturing of limited-series cars. Starting with the stunning PF0, we will develop a range of cars for Automobili Pininfarina that I believe will stand side-by-side with classic Pininfarina cars in their beauty, purity and innovative technologies."
Luca Borgogno, Design Director, Automobili Pininfarina, said: "Our design brief to Pininfarina SpA is simple: to take their renowned design and engineering skill, which has produced many of the world's most elegant and desirable cars, and combine it with our desire to develop and deliver the world's most beautiful range of luxury cars. There is a purity in our ambition, the styling of our cars and our engineering focus on emissions-free sustainable performance. We have termed this 'PURA', and it will define everything we do in the coming years."
Carlo Bonzanigo, Design Vice President, Pininfarina Group, said: "Pininfarina-designed cars throughout history have always combined creativity and technical rationality in a unique way. This search for the right equilibrium between emotion and reason, together with our constant quest for beauty and elegance, and the will to eschew useless formalism and excessive adornments, has led to some of the most beautiful cars in automotive history. This is the Pininfarina way to conceive cars; and we aim to deliver these standards to all future Pininfarina cars starting from the beautiful PF0 hypercar."
PF0 hypercar presented privately to European retailers
As work continues in Cambiano on Automobili Pininfarina's future range of cars, the Munich-based company has started presenting the PF0 prototype in Europe. The first potential European clients and the first luxury car retailers aiming to represent the brand in the region have met at a series of VIP events hosted by racing driver and new Automobili Pininfarina Development Driver Nick Heidfeld. It said that 'early feedback indicates strong demand for PF0 and significant interest in plans for future cars that will all be luxury, fully-electric and low-volume within their sectors'.