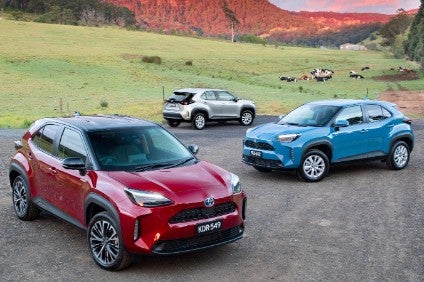 Australia's automotive industry delivered more than one million new vehicles in 2022, despite post-pandemic supply chain challenges and delivery delays.
A total of 1,081,429 vehicles were delivered during "an unusual year when demand exceeded supply". The FCAI, whose sales data stops at 2020 on its website, did not provide a comparison with 2021. Local reports said the market was up 3%.
Toyota was the top selling car brand with 21.4% of the market while the top selling vehicle was the brand's Hi-Lux (64,391.) SUVs and light commercials accounted for 76.8% of sales and comprise eight of the top 10 vehicles. Battery electric vehicles accounted for 3.1% of sales.
FCAI chief executive Tony Weber said the pathway through COVID recovery, microprocessor shortages and bottlenecks due to global shipping issues had created great challenges for car makers and their dealer networks in 2022.
"While 2022 has been a year of resilience and recovery, 2023 is shaping up as one of the most significant in recent history, particularly in terms of the development of policies that set the direction for the future decarbonisation of the light vehicle fleet.
"As the peak representative body for vehicle distributors, FCAI has advocated for a fuel efficiency standard for many years. We are optimistic that the federal government will take action in 2023 and introduce a standard that achieves the policy outcomes that lead to emission reductions while enabling Australians to drive the vehicles that they need and want.
"The FCAI and its members will do all it can to promote the development of sound policy, based on solid data and in the context of the unique nature of the Australian market."
Weber added that beyond the fuel efficiency standard, a technology mix, infrastructure investment and behaviour change initiatives were also needed to reduce emissions to create a cleaner fleet and ensure a sustainable automotive industry.
"We need to use the full range of low emission technologies that are available and affordable for the majority of Australians, not just those who can afford premium vehicles," he said.
In addition to Federal Government action on fuel efficiency and fuel quality, Mr Weber said that in 2023 the FCAI would continue its work on a broad range of issues that ultimately supported the needs of motorists and regulators.
"As vehicle technology develops beyond matters of safety and performance, the industry is dealing with the complexities of increased connectivity of vehicles to broader infrastructure and information networks. Other areas of focus include ports and logistics, design regulations and matters relating to future road user charges as fuel excise starts to fall with the increase of zero and low emission vehicles on our roads.
"FCAI recognises there will be significant challenges and opportunities in the year ahead and will be working with government, consumers and our members to overcome the challenges and capitalise on the opportunities in a way that benefits our planet, industry and drivers."