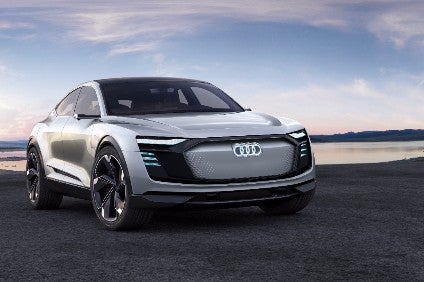 Audi will build a second electric model – the e-tron Sportback – at its Brussels, Belgium plant in 2019. The plant will start making the e-tron electric SUV in 2018.
"With the decision on the e-tron Sportback, we are showing that Audi takes the issue of electric mobility seriously. A second battery-electric model will lead to optimal capacity utilisation at our plant in Brussels," said production and logistics chief Hubert Waltl.
The basis for the new EV is the e-tron Sportback concept design study, which the company unveiled in Shanghai earlier this year. The concept car is a four-door 'GT' with 320kw electric drive.
According to just-auto's product life database PLDB, the model will be built on the Volkswagen Group MEB platform and had been known within Audi as the X17 BEV Coupé.
The production variant will have the same three-motor powertrain as the e-tron quattro. There will be one electric motor on the front axle and two on the rear, powering all four wheels. The concept's total output was quoted as being 320kW, which could rise to 370kW in the boost mode. Audi claimed a 0-100km/h time of 4.5 seconds. With the battery's energy content of 95 kilowatt-hours, the range would be "in excess of 310 miles".
Audi of America executives have reportedly stated that the e-tron Sportback will be available in the US from the 2020 model year.