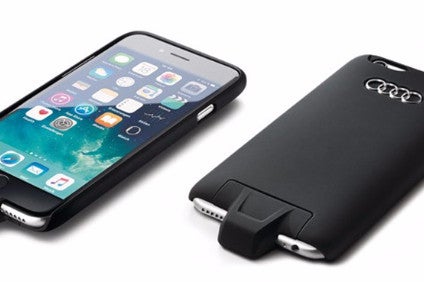 Audi has introduced a wireless charging case for the Apple iPhone that works in conjunction with its optional phone box connection and charging system.
When the Qi-enabled cover is fitted to an iPhone 6 or 6s, it can be placed in the centre console to start the charging process without the need to plug in a separate cable via the USB port. This also works outside of the car with any base station that also has Qi functionality.
Audi's branded wireless charging case has a light, slimline design that allows unhindered operation of the iPhone's camera lens and flash, headphone port, speakers and sensors. The small Qi receiver clip on the bottom of the case can also be easily removed to allow full access to the lightning port for charging on the move.
With a lacquered polycarbonate finish, the case also protects against light knocks and light scratches. It is Apple MFi certified, having met the required performance standards.
The new charging case requires the Audi Phone Box option in the car to function. In the UK, this is available to order as a standalone option from GBP325 or as part of the Technology Pack on many new models and also boosts phone signal quality, depending on reception, when a handset is paired by creating a wireless connection to the vehicle's aerial. The additional Bluetooth interface allows two mobile phones to connect to the car simultaneously.
The charging cover itself costs GBP35.